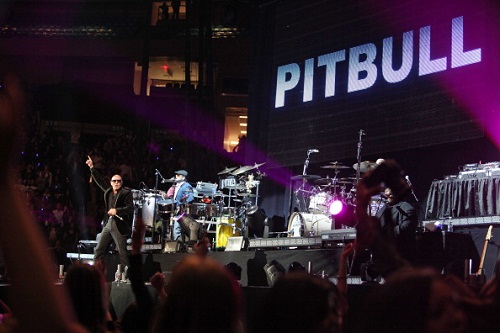 Pitbull torna nelle nostre radio con un pezzo autocelebrativo: 305 è infatti uno dei suoi numerosi nomi d'arte che spesso utilizza nei pezzi rap più importanti. Pitbull, 305, Lil' Chico o Mr. Worldwide, chiamatelo come preferite l'importante è che sappiate riconoscere il tipico ritmo rap dance del cantante che firma una collaborazione dietro l'altra confermando il suo successo anche come solista. 305 Till I die è l'ultimo singolo del cantante che ha da poco pubblicato il video ufficiale… Cosa ne pensate?
305 Till I die – Video
305 Till I die – Testo
It's that little Chico Pitbull
This my way of letting my City know
I'll ride for 'em! I'll Cry for 'em!
Bust five for 'em! And most of all,
FUCKING DIE FOR 'EM!!
HEY 305! TILL I DIE! (x 4)
Chorus
I'll ride for my muthafucking click! For my click!
I'll die for my muthafucking click! For my click!
I bust heads with my muthafucking click! With my click!
If a nigga talk shit, Watch my shit go click!
Click, click, click, click!
Man, I've been on the grind,
1 in the head, 16 in the 9
I'm extra Man!
The game is mine, in due time
It's all right, I'm patient Man!
I know how to play my position
I know how to play my part
I know how to play these bitches
I know how to play with they hearts
I've done some dumb things
But for the most,
I've played it smart
Who cares if you run things
Cuz I'm as live as 106 & park!
This game is nothing,
But a pool of blood with a bunch of sharks!
Only the strong survive
It's Do or Die
Get it Right!
That's why I roll for my peoples!
Cock back, go to war with my peoples!
Break bread with my peoples!
Man I'll die for my peoples!
Everybody knows is truth
That's why they respect
Everything that I do
Everywhere that I go
Every fiend, every foe
Every bitch, every hoe
Man I sold it All!
From the weed to the 'x'
From the 'x' to the blow
Mark my words " I'm next to Blow! "
P to the I, I to the T, T to the B, B to the U, double the L!
Me I'ma sell like ice cream in Hell!
This for my peoples that's locked up in jail
I'ma succeed, I'm never 'gon fail!
Papo just watch!
Chorus (x 2)
Man I'm watching the game closely
Uncle Luke that man done coached me
He told me the who, what, where's, and why's
How to cross T's, how to dot I's
Little did he know he created a Monster!
PITBULL Nigga, I'm that Monster!
DB, them Chico's is Monsters!
Lil'Jon, that Nigga is a Monster!
Everybody in the click is well equipped
Ready for Pit to take over shit!
This here is not a game
This here is our lives
We can't fuck this up
We gotta get it right
If you wit us and you ready for war
Then let's Ride!!!
LET'S show 'em how we do in the south
Kick in they door, run in they house
Since them boys think they spit fire
Fuck It! Put the gun in they mouth!
Follow me now
All these bitches wanna swallow me now!
All these niggas that I don't even know
Wanna hollah at me now
Cuz the wanna be down
But fuck'em man!
Me I turn it up a notch
To my hustlers be careful when they murdering the block!
To my killers be careful when you burning up the glock!
Last thing you wanna be is running from the cops
Pit's 'gon take it from da bottom to the top!
Haters can hate, but it aint 'gon stop!
Everybody knows I'm blow just listen to the flow
This Chico got it on lock! HA!
Chorus (x 2)
HEY 305! TILL I DIE! (x 12)
305 Till I die – Traduzione
E' quel Chico Pitbull
Questo è il modo per far sapere alla mia città
Piangerò per loro
Dammi il cinque! E soprattutto,
Morirò per loro!
HEY 305! Fino alla morte! (x 4)
Ritornello
Comanderò per la mia crew! Per la mia crew!
Morirò per la mia crew! Per la mia crew!
Farò altare teste con la mia crew! Con la mia crew!
Se qualcuno dice c****** noi arriviamo!
Crew! (x 4)
Mi hanno pressato,
1 nella testa, 16 in 9
Sono un super uomo!
Il gioco è mio, lo complete in tempo
E' tutto ok, sono un uomo paziente
So come giocare nella mia posizione
So come giocare nella mia parte
So come giocare con queste t****
So come giocare con i loro cuori
Ho fatto cose stupide
Ma la maggior parte delle volte
Sono stato furbo
Cosa importa cosa fai tu, io sono vivo 106 & park!
Questo gioco non è niente
Una piscine di sangue con un branco di squali!
Solo il più forte sopravvive
Fallo o muori
Fallo bene!
Ecco perché corro per la mia gente!
Vieni in guerra con la mia gente!
Condividi il cibo con la mia gente!
Morirò per loro!
Tutti sanno che è la verità
Ecco perché rispettano ogni cosa
Tutto ciò che faccio
Ovunque vado
Ogni amico, ogni nemico
Ogni str****
Ho venduto tutto!
Dall'erba all'x
Dall'x al fumo
Prestate attenzione a queste parole "Sono il prossimo ad esplodere!"
P, I, T, B, U, doppia L!
Vendo gelati come fossimo all'inferno!
Questo è per gli amici che sono in prigione
Io avrò successo, non fallirò mai
Papo ti ha visto!
Ritornello (x 2)
Sto guardando il gioco da vicino
Lo zio Luke mi ha istruito
Mi ha detto chi, cosa, perché e quando
Come scrivere la T, come punteggiare la I
Non sapeva di aver creato un mostro!
Pitbull, sono io quell mostro!
DB, iI loro Chico è il mostro!
Lil'Jon, quello è un mostro!
Tutti quelli della crew sono ben equipaggiati
Pit è pronto per vincere!
Questo non è un gioco
Questa è la nostra vita
Non possiamo fott***
Dobbiamo fare bene
Se pronto per la guerra
Facciamo un giro!
Mostriamo loro come facciamo qui al sud
Calcia la porta, entra in casa loro
Quei ragazzi pensano di sputare fuoco
F******! Mettigli una pistola in bocca!
Seguimi ora
Tutte queste tr*** vogliono ingoiarmi!
Questi non li conosco neanche
F******, amico!
Ho alzato un fendente
Fate attenzione, possono fare fuori il quartiere!
Fate attenzione, omicidi, quando mi punterete addosso una pistola!
L'ultima cosa che volete fare è essere inseguiti dalla polizia
Pit li acchiappa ovunque!
Mi odieranno, ma niente mi fermerà!
Tutti sanno che esplodo solo ascoltando il ritmo
Questo Chico ha tanta fortuna! Ah!
Ritornello (x 2)
HEY 305! Fino alla morte! (x 12)
Photo Credits | Getty Images