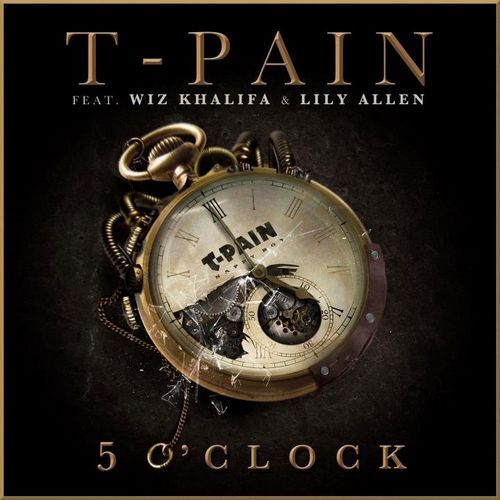 Vede la collaborazione di Lili Allen e Wiz Khalifa il nuovo singolo di T-Pain, giovanissimo rapper e produttore che lancia ora una nuova hit, dolce e spregiudicata al tempo stesso. T-Pain è giunto al suo quarto album, rEVOLVEr, e 5 O'clock è il suo nuovo singolo.
5 O'clock – Video
5 O'clock – Testo
Lily Allen
It's 5 o'clock in the morning
Conversation got boring
You said you'd go into bed soon
So I snuck off to your bedroom
And I thought I'd just wait there
Until I heard you come up the stairs
And I pretended I was sleeping and I was hoping..
T-Pain
It's 5 o'clock in the morning, and I want ya
And you want me, don't ya?
I can see it
Cause you've been waiting on me since
I said that I was hittin' the club
Something coming up on me
And I know you be getting so horny
Cause you be sending me texts
Like boy just get your ass up in that car
And come get all of this love
(It's 5 o'clock in the morning)
You ain't got to remind me
She already said if I don't come home on time
She might go crazy
And she'll be waiting on me naked
With one of my chains on
She might come and find me
And then ask me kindly
Do I want her to go crazy?
We do this every night
And then we always wake up singing the same song
Ritornello Lily Allen
It's 5 o'clock in the morning
Conversation got boring
You said you'd go into bed soon
So I snuck off to your bedroom
And I thought I'd just wait there
Until I heard you come up the stairs
And I pretended I was sleeping
And I was hoping you were creeping
Ritornello T-Pain
It's 5 o'clock in the morning
Conversation got boring
You said you'd go into bed soon
So I snuck up to your bedroom
And I thought I'd just wait there
Until I heard you come up the stairs
And I pretended I was sleeping
And I was hoping you would creep in
T-Pain
It's 5 o'clock in the morning
And you calling
And these females got me stalling
I can hear your voice in my head like
"What is he doing?" oh what is he doing?
Cause I keep checking my cell phone
And these missed calls
You texting me like I'mma kill y'all
If you don't get your ass up out of that club
And you do know what time it is
(It's 5 o'clock in the morning)
On my bed, girl
And this Nuvo got me trippin
And I know that you mad, girl
But you ain't got to worry about nothing
Girl I got you, girl I got you
She might come and find me, and then ask me kindly
Do I want her to go crazy
We do this every night and then
We always wake up singing the same song
Ritornello Lily Allen
It's 5 o'clock in the morning
Conversation got boring
You said you'd go into bed soon
So I snuck off to your bedroom
And I thought I'd just wait there
Until I heard you come up the stairs
And I pretended I was sleeping
And I was hoping you were creeping
Ritornello T-Pain
Wiz Khalifa
You ain't got nothing on
But the t-shirt that I left over your house
The last time I came and put it on ya
Too many thirsty girls up in this club for me to
Leave here with one of them
That's why I call her
And you'll be right at home waiting for me
Iphone plugged in the wall, just waiting for me
Club closed at 6, left around 4:30
Yeah so by the time I'm at your crib..
(It's 5 o'clock in the morning)
And you yawning, but I've been drinking all night and I feel like performing
With you in the bedroom
Flooring to the dresser
Don't want nothing less cause I'm sure you're the best
You're the one, So I let you
That's how you show me love
And when we finish you like "damn, babe you woke me up"
I like you way you put it down likes its for both of us
The sun ain't the only thing that's coming up
Ritornello
It's 5 o'clock in the morning
Conversation got boring
You said you'd go into bed soon
So I snuck off to your bedroom
And I thought I'd just wait there
Until I heard you come up the stairs
And I pretended I was sleeping
And I was hoping you were creeping
5 O'clock – Traduzione
Lily Allen
Sono le 5 di mattina
Le conversazioni diventano noiose
Hai detto che saresti andato a letto presto
Così sono entrata di soppiatto dalla camera
E ho pensato che avrei aspettato lì
Fino a quando sei arrivato
E io ho fatto finta di dormire, e speravo
T-Pain
Sono le 5 di mattina e ti voglio
E tu mi vuoi, no?
Lo vedo
Perché mi hai aspettata
Quando ho detto che sarei andato al club
Qualcosa è salito dentro di me
E sapevo ti saresti eccitata
Perché continuavi a mandarmi sms
Del tipo "Ragazzo, metti il tuo c*** sull'auto"
Ed è l'amore che parla
(Sono le 5 di mattina)
Non devi ricordarmelo
Ha detto che se non tornerò a casa in tempo
Andrà fuori di testa
Mi aspetterà nuda
Con addosso una delle mie collane
Verrà a cercarmi
E a chiedermi
Devo farla diventare matta?
Lo facciamo ogni notte
E poi ci svegliamo cantando la stessa canzone
Ritornello Lily Allen
Sono le 5 di mattina
Le conversazioni diventano noiose
Hai detto che saresti andato a letto presto
Così sono entrata di soppiatto dalla camera
E ho pensato che avrei aspettato lì
Fino a quando sei arrivato
E io ho fatto finta di dormire,
E speravo avessi paura
Ritornello T-Pain
Sono le 5 di mattina
Le conversazioni diventano noiose
Hai detto che saresti andata a letto presto
Così sono entrato di soppiatto dalla camera
E ho pensato che avrei aspettato lì
Fino a quando sei arrivata
E io ho fatto finta di dormire, e speravo avessi paura
T-Pain
Sono le 5 di mattina
E tu stai chiamando
Quelle donne mi hanno catturato
Riesco a sentire la tua voce nella mia testa
"Cosa sta facendo?" Oh, cosa sta facendo?
Continuo a guardare il telefono
Tutte queste chiamate perse
Mi mandi un sms "Ti ammazzo"
Se non metti il c*** sull'auto
E sai che ore sono
Sono le 5 di mattina
Nel mio letto, ragazza
Questa Nuvo mi ha viaggiare
So che sei pazza
Ma non devi preoccuparti di nulla
Ragazza ti ho presa (x 2)
Puoi venire e cercarmi e chiedermi
Se voglio farla diventare matta
Lo facciamo ogni sera
E poi ci svegliamo e cantiamo la stessa canzone
Ritornello Lily Allen
Ritornello T-Pain
Wiz Khalifa
Non hai nulla
Ma la maglietta che ho lasciato a casa tua
L'ultima notte che sono venuto e te l'ho fatta indossare
Al club c'erano troppe ragazze assetate
Sono uscito con una di loro
Ecco perché l'ho chiamata
E tu sarai a casa ad aspettare
L'iPhone accanto al muro, aspetta solo me
Il club chiude alle 6, sono uscito alle 4.30
Yeah, per quell'ora sarò a casa
(Sono le 5 di mattina)
Tu stai sbadigliando, ma io ho bevuto tutta la notte
E ho voglia di fare qualcosa con te in camera
Non voglio nient'altro perchè so che sei la migliore
Sei unica
Ecco come mi dimostri amore
E quando finiamo "Dannazione, mi hai svegliata"
Il sole non è l'unica cosa che sta salendo
Ritornello