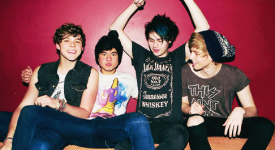 Disconnected è uno dei pezzi contenuti nell'EP She looks so perfect del 2014 dei 5 Seconds Of Summer.
In questo EP, che arriva prima dell'album di debutto che prende il nome dalla band, ci sono brani come Heartache on the big screen, The only reason, What I like about you e naturalmente la loro hit She looks so perfect.
Di seguito il testo e la traduzione di Disconnected.
Testo – Disconnected
Ohhh Oh Oh
Life's a tangled web of cellphone calls and hashtag 'I don't knows'
And you, you're so caught up in all the blinking lights and dial tones
I admit I'm a bit of a victim in the worldwide system too
But I find my sweet escape when I'm alone with you
Tune out the static sound of the city that never sleeps
Here in the moment on the dark side of the screen
I like the summer rain
I like the sounds you make
We put the world away
We get so disconnected
You are my getaway
You are my favourite place
We put the world away
Yeah we're so disconnected
Ohhh Oh Oh, Ohhh Oh Oh
Hands around my waist, you're counting up the hills across the sheets
And I'm a falling star, a glimmer lighting up these cotton streets
I admit I'm a bit of a fool for playing by their rules
But I find my sweet escape when I'm alone with you
Tune out the static sound of the city that never sleeps
Here in the moment on the dark side of the screen
I like the summer rain
I like the sounds you make
We put the world away
We get so disconnected
You are my getaway
You are my favourite place
We put the world away
Yeah we're so disconnected
Turn off the radio, those late night TV shows
Hang up the telephone and just be here with me
Turn off the radio, those late night TV shows
Hang up the telephone and just be here with me
I like the summer rain
I like the sounds you make
We put the world away
We get so disconnected
You are my getaway
You are my favourite place
We put the world away
Yeah we're so disconnected
I like the summer rain
I like the sounds you make
We put the world away
We get so disconnected
You are my getaway
You are my favourite place
We put the world away
Yeah we're so disconnected
Ohhh Oh Oh, Ohhh Oh Oh
Traduzione
Ohhh Oh Oh
La vita è un'aggrovigliata rete di chiamate dal cellulare e hashtag #IDontKnows
e tu, tu sei così presa da tutte quelle luci lampeggianti e dai dial tones
Lo ammetto anche io sono un po' vittima del sistema mondiale
ma trovo la mia dolce fuga quando sono da solo con te
ignoro il suono statico della città che non dorme mai
qui in questo momento, nel lato scuro dello schermo
Mi piace la pioggia estiva
I suoni che fai
Mettiamo il mondo da parte
Siamo così disconnessi
tu sei il mio rifugio
Sei il mio posto preferito
Mettiamo il mondo da parte
Sì, siamo così disconnessi
Ohhh Oh Oh, Ohhh Oh Oh
mani intorno alla mia vita, stai contando le pieghe sulle lenzuola
e io sono una stella cadente, un barlume che illumina queste strade di cotone
Lo ammetto sono un po' uno stupido a giocare secondo le loro regole,
ma trovo la mia fuga quando sono da solo con te
ignoro il suono statico della città che non dorme mai
qui in questo momento, nel lato scuro dello schermo
Mi piace la pioggia estiva
I suoni che fai
Mettiamo il mondo da parte
Siamo così disconnessi
tu sei il mio rifugio
Sei il mio posto preferito
Mettiamo il mondo da parte
Sì, siamo così disconnessi
Spegni la radio, quegli show televisivi che fanno a tarda notte
Riattacca il telefono e stai solo qui con me
Spegni la radio, quegli show televisivi che fanno a tarda notte
Riattacca il telefono e stai solo qui con me
Mi piace la pioggia estiva
I suoni che fai
Mettiamo il mondo da parte
Siamo così disconnessi
tu sei il mio rifugio
Sei il mio posto preferito
Mettiamo il mondo da parte
Sì, siamo così disconnessi
Mi piace la pioggia estiva
I suoni che fai
Mettiamo il mondo da parte
Siamo così disconnessi
tu sei il mio rifugio
Sei il mio posto preferito
Mettiamo il mondo da parte
Sì, siamo così disconnessi
Ohhh Oh Oh, Ohhh Oh Oh