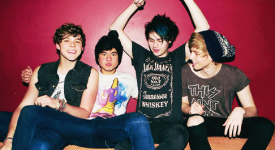 I 5 Seconds Of Summer sono una band australiana formata da Calum Hood, Ashton Irwin, Luke Hemmings e Michael Clifford.
Don't stop è uno dei singoli che fa seguito al grandissimo successo di  She looks so perfect, che anticipa il loro album di debutto e con cui hanno intenzione di conquistare il mondo. Questi 5 Seconds Of Summer sembrano già essere un fenomeno inarrestabile.
Il brano è già un fenomeno del web, grazie anche al simpatico video che trasforma i protagonisti in supereroi.
Di seguito testo e traduzione di Don't stop.
Testo – Don't stop
I can refresh you so can a holiday 
You got me thinking that we could run away 
You are my ticket out you tell me where and when, 
oh woah 
I take your number said you don't have a phone 
It's getting late now I gotta let you go 
Everybody wants to take you home tonight 
I'm gonna find a way to make you mine 

Don't stop doin' what you're doin' 
Every time you move to the beat 
it gets harder for me 
And you know it, know it, know it 
Don't stop 'cause you know that I like it 
Every time you walk in the room 
you got all eyes on you 
And you know it, know it, know it 

Got me close now sure I can taste it 
You've got me tongue tied I can't escape it 
I remember what you got the way you push me back, 
oh woah 
Everybody wants to take you home tonight 
But I'm gonna find a way to make you mine 

Don't stop doin' what you're doin' 
Every time you move to the beat 
it gets harder for me 
And you know it, know it, know it 
Don't stop 'cause you know that I like it 
Every time you walk in the room 
you got all eyes on you 
And you know it, know it, know it 

Every day is the same all the games that you play 
Back and fourth round and round I like it this way 

Don't stop doin' what you're doin' 
Every time you move to the beat 
it gets harder for me 
And you know it, know it, know it 
Don't stop doin' what you're doin' 
Every time you move to the beat 
it gets harder for me 
And you know it, know it, know it 
Don't stop 'cause you know that I like it 
Every time you walk in the room 
you got all eyes on you 
And you know it, know it, know it

Traduzione
Posso rigenerarti come può fare una vacanza
Tu mi fai pensare che potremmo scappare via
Tu sei il mio biglietto per partire,
dimmi solo quando e dove
Prendo il tuo numero, hai detto che non hai il telefono
Si sta facendo tardi ora, ti devo lasciare andare
Tutti vorrebbero portarti a casa stanotte
E io troverò un modo per farti mia
Non smettere di fare quello che stai facendo
Tutte le volte che ti muovi a ritmo
diventa più difficile per me
E tu lo sai, lo sai, lo sai
Non ti fermare perché lo sai che mi piace
Ogni volta che entri in una stanza
Hai tutti gli occhi su di te
E tu lo sai, lo sai, lo sai
Mi avvicino a te ora, sicuro di poter assaggiare
Ma tu mi hai annodato la lingua, non posso scappare
Mi ricordo quel che hai, il modo in cui mi respingi
Tutti vorrebbero portarti a casa stanotte
Ma io troverò un modo per farti mia
Non smettere di fare quello che stai facendo
Tutte le volte che ti muovi a ritmo
diventa più difficile per me
E tu lo sai, lo sai, lo sai
Non ti fermare perché lo sai che mi piace
Ogni volta che entri in una stanza
Hai tutti gli occhi su di te
E tu lo sai, lo sai, lo sai
Ogni giorno è la stessa cosa
fai sempre gli stessi giochetti
avanti e dietro, gira e rigira
ma a me piace così
Non smettere di fare quello che stai facendo
Tutte le volte che ti muovi a ritmo
diventa più difficile per me
E tu lo sai, lo sai, lo sai
Non ti fermare perché lo sai che mi piace
Ogni volta che entri in una stanza
Hai tutti gli occhi su di te
E tu lo sai, lo sai, lo sai