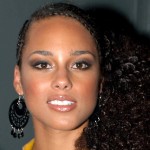 E' tornata Alicia Keys, e ci presenta il suo nuovo singolo "Doesn't Mean Anything" che ad un primo ascolto assomiglia al successo No One di Alicia.

Come al solito Alicia con la sua dolcezza e bravura, anche grazie ad una voce spettacolare tira furi dal cilindro un brano davvero bello, da ascoltare senza dubbi.

Quindi non perdiamo tempo e andiamo subito ad ascoltarlo.
Dopo il salto un video fan-made.
Buon ascolto!
Video
Testo
Doesn't Mean Anything
Used to dream of being a millionaire, without a care
but if I'm seeing my dreams and you aren't there
'cause it's over
that just wont be fair, darling.
I'd rather be a poor woman living on the street,
no food to eat
'cause I don't want no pie if I have to cry
'cause it's over
when you said goodbye
All at once
I had it all
but it doesn't mean anything
now that you're gone
from above,
seems I had it all
but it doesn't mean anything
since you're gone
Now I see myself through different eyes
it's no surprise
but being alone would make you realize, when it's over
all in love is fair
I shoulda been there, I shoulda been there, I shoulda shoulda
All at once
I had it all
but it doesn't mean anything
now that you're gone
from above,
seems I had it all
but it doesn't mean anything
since you're gone
I know I pushed you away
what can I do that would save our love
take these material things
they don't mean nothing
its you that I want
All at once
I had it all
but it doesn't mean anything
now that you're gone
from above,
seems I had it all
but it doesn't mean anything
since you're gone
Traduzione
Doesn't Mean Anything
Continuo a sognare di essere un milionario, senza una cura
ma se guardo i miei sogni e non ci sei
perchè è finita
questo non farebbe giusto, tesoro
Preferisco essere una povera donna che vive sulla strada,
senza cibo da mangiare
Perche non voglio nessuna torta se devo piangere
perchè è finita
Quando si dice addio
Tutto in una volta
Ho avuto tutto
ma questo non significa nulla
Ora che sei andato via
dall'alto,
Mi sembra di aver capito tutto
ma questo non significa nulla
da quando te ne sei andato
Ora mi vedo con occhi diversi
non è una sorpresa
ma essere da sola ti fa capire, quando è finita
il tutto in amore è giusto
dovrei essere li, dovrei essere li, dovrei dovrei
Tutto in una volta
Ho avuto tutto
ma questo non significa nulla
Ora che sei andato via
dall'alto,
Mi sembra di aver capito tutto
ma questo non significa nulla
da quando te ne sei andato
So che ti ho spinto via
cosa posso fare per salvare il nostro amore
prendere queste cose materiali
esse non significano nulla
la sua è che io voglio
Tutto in una volta
Ho avuto tutto
ma questo non significa nulla
Ora che sei andato via
dall'alto,
Mi sembra di aver capito tutto
ma questo non significa nulla
da quando te ne sei andato