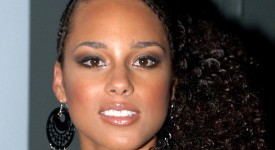 Alicia Keys ha contribuito con la canzone It's on again alla colonna sonora del film The Amazing Spider-Man 2.
It's on again è brano realizzato in compagnia di due pezzi da 90 della musica black d'oltreoceano come Kendrick Lamar e l'onnipresente Pharrell Williams, in questo caso nelle vesti di produttore. Ricordiamo che anche l'italiana Francesca Michielin ha partecipato alla colonna sonora di questo film.
Ecco il testo e la traduzione di It's on again.
Testo – It's on again
And everybody know the story of David and Goliath
But this is bigger than triumph
This is for the warrior, this is for you and I
This is for euphoria, give me a piece of mind
God is recording this, won't you look in the sky?
Tell him you got the behavior of your neighbor
Even when stability's never in your favor
Fly with the turbulence, only last a minute
Land on your dreams, and recognize you live it
Walk through the valley of peace, with bare feet
Run through the flames, that's more passion for me
I passed that, this morning just so the world can see
Got them wolves on me, no watch me lick 'em clean
I know, I know, my pride, my goals, my highs, my lows
I know, I know, it's mind control
I know I could prosper, no impostor, prosecute my posture
I stand up and I stand by her, what?
[Verse 2: Alicia Keys]
I am a freedom fighter, the name that history wrote
And even through disaster, eye of the tiger for hope
I'm trying to find my way back, there's no day off for heroes
And even when I'm tired, go is the only word I know
[Pre-Hook: Alicia Keys]
And the night is takin' over, and the moonlight gets exposure
And the players have been chosen, and it seems like fate has spoken
When it seems your faith has broken, by the second, losin' focus
Ain't no way to get off, get off, get off, get off
Unless you move forward
[Hook: Alicia Keys]
I bet they wonder how I go on (x3)
I'll simply say "it's on again, it's on again," whoa-oh
The world don't stop, it's on again, it's on again, whoa-oh
[Verse 3: Alicia Keys]
I am a lonely hero, trying to fight my battles
Life likes to blow the cold wind, sometimes it freezes my shadow
In the midst of all this darkness, I sacrifice my ego
There ain't no room for selfish, we do it for the people
[Pre-Hook & Hook]
[Bridge: Alicia Keys]
Say the work don't stop, cause they don't stop
And everybody here tryna get on top
Everybody from the burbs down to the block
Gotta hold on tight and don't let go, let go
Huh, so you think you hot?
Gotta grind hard, give it all you got
You can have, or you can have not
You see that a lot in the ghetto (ghetto)
[Hook]
Traduzione
E tutti conoscono la storia di Davide e Golia
Ma questo è più grande un trionfo
Questo è per il guerriero , questo è per te ed io
Questo è per euforia, dammi un pezzo di mente
Dio sta registrando questo, non lo vedi in cielo ?
Digli che hai tenuto il comportamento del tuo prossimo
Anche quando la stabilità non è stata a tuo favore
Vola con la turbolenza, dura solo un minuto
Atterra sui tuoi sogni, e riconosci di viverlo
Passeggia attraverso la valle della pace, a piedi nudi
Corri attraverso le fiamme, c'è più passione per me
L'ho superato, questa mattina, solo così il mondo può vedere
Ho avuto i lupi su di me, non guardarmi mentre leccano e mi puliscono
Lo so, lo so, il mio orgoglio , i miei obiettivi , i miei alti , i miei bassi
Lo so, lo so, è il controllo della mente
So che avrei potuto prosperare, nessun impostore , perseguire la mia postura
Mi alzo e mi trovo accanto lei, che cosa?
Io sono un combattente per la libertà , il nome che la storia ha scritto
E anche attraverso il disastro, l'occhio della tigre per la speranza
Sto cercando di ritrovare la strada , non c'è nessun giorno di riposo per gli eroi
E anche quando sono stanco, andare avanti è l'unica parola che conosco
E la notte sta subentrando e la luce della luna appare
E i giocatori sono stati scelti e sembra che il destino abbia parlato
Quando sembra che la tua fede si sia spezzata, dal secondo , perdendo la concentrazione
Non c'è modo di scendere , scendere , scendere , scendere
A meno che non si vada in avanti
Scommetto che si chiedono come io vada avanti
Io semplicemente dico "è di nuovo su, è di nuovo su, " Whoa -oh
Il mondo non si ferma , è di nuovo su, è di nuovo su, whoa -oh
Sono un eroe solitario, cerco di combattere le mie battaglie
La vita ama soffiare il vento freddo, a volte congela la mia ombra
In mezzo a tutta questa oscurità , io sacrifico il mio ego
Non c'è spazio per l'egoismo, lo facciamo per la gente
Dicono che il lavoro non si ferma, perché loro non si fermano
E tutti qui stanno cercando di arrivare in cima
Tutti, dalla periferia fino all'isolato
Devi tenerti stretto e non lasciare andare, lasciar andare
Eh, pensi di essere abile?
Devo macinare duro, dare tutto ciò che hai
Si può avere o si può non avere
Puoi vedere un sacco di queste cose nel ghetto (ghetto )