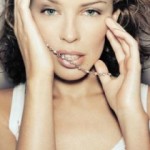 La bella e sexi artista australiana lancia il suo undicesimo album in studio Aphrodite anticipato in radio dal singolo All the lovers.
Una canzone gradevole questa All the lovers, in pieno "stile Minogue" che sta riscuotendo sempre maggiori successo negli ascoltatori.
Il video che accompagna questo brano inizia in modo un po' strano, uno strip di massa per le strade della città per dare inizio all'amore appassionato. Protagonista del video è la stessa Kylie Minogue che in cima ad una piramide umana che si forma intona le note della canzone.
All the lovers – Video
Testo – All the lovers – Kylie Minogue
Dance
It's all I wanna do
So won't you
Dance
I'm standing here with you
Why won't you move
I'll get inside your groove
Cuz I'm on fire fire fire fire
It hurts
When you get too close
But baby it hurts
If love is really good
You just want more
Even if it throws you to the fire fire fire fire
All the lovers
That have gone before
They don't compare to you
Don't be frightened
Just give me a little bit more
They don't compare
All the lovers
Feel
Can't you see there's so much here to feel
Deep inside in your heart
You know I'm real
Can't you see that this is really higher higher higher higher
Breathe
I know you find it hard
But baby breathe
Lying next to me
Its all you need
And i'll take you there
I'll take you higher higher higher higher
All the lovers
That have gone before
They don't compare to you
Don't be frightened
Just give me a little bit more
They don't compare
All the lovers
Dance
It's all I wanna do
So won't you dance
I'm standing here with you
Why won't you move
Even if it throws you to the fire fire fire
All the lovers
That have gone before
They don't compare to you
Don't be frightened
Just give me a little bit more
They don't compare
All the lovers
Traduzione
Ballare
E' tutto quello che voglio fare
Perciò non vuoi
Ballare?
Sto qui con te
Perché non vuoi muoverti?
Sconvolgerò la tua routine
Perché sono in fiamme
Fa male
Quando ti avvicini troppo
Ma, piccolo, fa male
Se l'amore è veramente buono
Ne vuoi di più
Anche se ti getta nel fuoco
Tutti gli amanti
Che ci sono stati prima
Non si possono paragonare a te
Non scappare
Dammi solo un po' di più
Non si possono paragonare
Tutti gli amanti
Senti
Non riesci a capire che c'è molto da sentire qui
Nel profondo del tuo cuore
Sai che sono reale
Non riesci a capire che è una cosa veramente elevaata
Respira
So che lo trovi difficile
Ma, piccolo, respira
Stando steso al mio fianco
E' tutto quello che mi serve
E ti porterò lì
Ti porterò più in alto

Tutti gli amanti
Che ci sono stati prima
Non si possono paragonare a te
Non scappare
Dammi solo un po' di più
Non si possono paragonare
Tutti gli amanti
Ballare
E' tutto quello che voglio fare
Perciò non vuoi
Ballare?
Sto qui con te
Perché non vuoi muoverti?
Anche se ti getta nel fuoco
Tutti gli amanti
Che ci sono stati prima
Non si possono paragonare a te
Non scappare
Dammi solo un po' di più
Non si possono paragonare
Tutti gli amanti