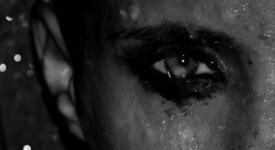 Secondo singolo estratto dal nuovo album di Anna Calvi, cantante inglese di origini italiane che ha avuto uno spettacolare esordio discografico due anni fa con il suo primo album, che porta semplicemente il suo nome. L'album, che può vantare anche la collaborazione di Brian Eno, è arrivato nelle prime posizioni delle classifiche di vendita di molti paesi europei.
Ora Anna Calvi ci presenta un nuovo brano, il cui titolo è "Sing To Me", che ha il difficile compito di risollevare le sorti del primo singolo "Suddenly" e recuperare terreno in attesa dell'uscita del nuovo album "One Breath".
Testo – Sing to me
Out of the dust, out of your voice
Stopping the cars as you run past
We are in love. We are in love with you.
Sing to us, beautiful one.
Got on your skin, colder than night
The last of the one, the one we divide
Lying so still, lying so still here.
Sing to me, beautiful one.
Fill me up
Fill me whole
Tear my throat just to hear your voice
So sing out loud
Woooooh
Ooooooh
Ahhhhhh
Ahhhhhh
Ahhhhhh
And still, sing to me, beautiful one.
Traduzione
Fuori dalla polvere, fuori dalla vostra voce
Fermando le auto, come si corressi nel passato
Siamo innamorati. Siamo innamorati di te.
Canta per noi, bellezza.
Ho avuto la tua pelle, più fredda della notte
L'ultimo di uno, quello che ci dividiamo
Sdraiato così immobile, sdraiato così ancora qui.
Canta per me, bellezza.
Woooooh
Ooooooh
Ahhhhhh
Ahhhhhh
Ahhhhhh
E ancora, canta per me, bellezza.