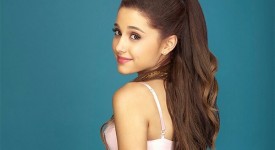 Nell'album My Everything di Ariana Grande, ci sarà anche un pezzo in collaborazione con il musicista e produttore discografico canadese Abel Tesfaye in arte The Weeknd.
Il pezzo s'intitola Love me harder ed è stato rilasciato insieme ad altri due brani, Why Try e Be my baby feat. Cashmere Cat.
Le collaborazioni sono tante come abbiamo potuto vedere con il singolo Problem feat. Iggy Azalea e Break free feat. Zedd. L'album uscirà il 16 settembre 2014.
Di seguito il testo e la traduzione di Love me harder.
Testo – Love me harder
Tell me something I need to know
Then take my breath and never let it go
If you just let me invade your space
I'll take the pleasure, take it with the pain
And if in the moment I bite my lip
Baby in that moment you know this is
Something bigger than us and beyond bliss
Give me a reason to believe it
Cause if you want to keep me
You gotta, gotta, gotta, gotta, got to love me harder
And if you really need me
You gotta, gotta, gotta, gotta, got to love me harder
(Baby love me harder)
Ooo love me, love me, love me
Ooo harder, harder, harder
I know your motives
And you know mine
The ones that love me
I tend to leave behind
If you know about me
And choose to stay
Then take this pleasure and take it with the pain
And if in the moment you bite your lip
When I get you moaning you'll know it's real
Can you feel the pressure between your hips
I'll make you feel like the first time
Cause if you want to keep me
You gotta, gotta, gotta, gotta, got to love me harder
(Imma love ya harder)
And if you really need me
You gotta, gotta, gotta, gotta, got to love me harder
(Love me harder)
Ooo love me, love me, love me
Ooo harder, harder, harder
Ooo love me, love me, love me
Ooo harder, harder, harder
(Love me harder)
So what do I do if I can't figure it out
You got to try, try, try again
So what do I do if I can't figure it out
I'm gonna leave, leave, leave again
Cause it you want to keep me
You gotta, gotta, gotta, gotta, got to love me harder
(I will love, love, love)
And if you really need me
You gotta, gotta, gotta, got to, got to love me harder
(Love, love baby)
Cause if you want to keep me
You gotta, gotta, gotta, gotta, got to love me harder
(Love me harder)
And if you really need me
You gotta, gotta, gotta, gotta, got to love me harder
(I'm gonna do it, do it. Imma love ya harder)
Ooo love me, love me, love me (Love you)
Ooo harder, harder, harder (Love me, love me baby)
Ooo love me, love me, love me (Just a little bit harder, harder baby)
Ooo harder, harder, harder
Traduzione
Dimmi qualcosa che ho bisogno di sapere
poi prendi il mio respiro e non lasciarlo più
se mi lasci invadere il tuo spazio
prenderò il piacere, lo prenderò col dolore
e nel momento in cui morderò il labbro
baby, in quel momento saprai che è
qualcosa di più grande di noi e oltre l'incantesimo
dammi una ragione per crederci
Perché se mi vuoi tenere
devi, devi, devi, devi amarmi più forte
e se davvero hai bisogno di me
devi, devi, devi, devi amarmi più forte
(baby, amami più forte)
amami, amami, amami
più forte, più forte, più forte
conosco i tuoi motivi
e tu conosci i miei
gli unici che mi amano
tendo a lasciarli indietro
se sai qualcosa di me
e decidi di restare
allora prendi questo piacere e prendilo con il dolore
e nel momento in cui ti mordi il labbro
quando sento che ti lamenti saprai che è reale
puoi sentire la pressione tra le tue anche
ti farò sentire come la prima volta
Perché se mi vuoi tenere
devi, devi, devi, devi amarmi più forte
e se davvero hai bisogno di me
devi, devi, devi, devi amarmi più forte
(baby, amami più forte)
amami, amami, amami
più forte, più forte, più forte
amami, amami, amami
più forte, più forte, più forte
(baby, amami più forte)
allora cosa faccio, non riesco a capire
devi provarci, provarci ancora
allora cosa faccio, non riesco a capire
me ne andrò, me ne andrò, ancora una volta
Perché se mi vuoi tenere
devi, devi, devi, devi amarmi più forte
(amerò, amerò, amerò)
e se davvero hai bisogno di me
devi, devi, devi, devi amarmi più forte
(amore, amore)
Perché se mi vuoi tenere
devi, devi, devi, devi amarmi più forte
(amarmi più forte)
e se davvero hai bisogno di me
devi, devi, devi, devi amarmi più forte
(lo farò, ti amerò più forte)
Ooo amami, amami, amami (ti amo)
Ooopiù forte, più forte, più forte (amami, amami baby)
Ooo amami, amami, amami (un po' più forte, più forte baby)
Ooo più forte, più forte, più forte