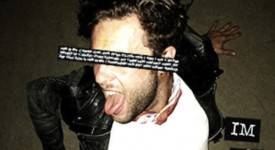 I'm an Albatraoz è un singolo del 2014 del Dj e producer svedese AronChupa. La canzone è stata certificata disco di platino in diversi Paesi tra cui l'Italia.
A prestare la sua voce per questo pezzo c'è la sorella di AronChupa, ovvero Nora Ekberg.
Di seguito il testo e la traduzione di I'm an Albatraoz.
Testo – I'm an Albatraoz
Madames et Monsieurs
S'il vous plaît
soyez prêt pour AronChupa et Albatraoz
C'est parti!
Let me tell you all a story about a mouse named Lorry
Yeah, Lorry was a mouse in a big brown house
She called herself the hoe, with the money money flow
But fuc* that little mouse cuz I'm an Albatraoz
Yeah Lorry said she was a mouse, smoked that cheesn' like a baoz
Monilie money money hoe, chinka chinka chingka-flow
Lorry was a witch, yeah a sneaky little bitc*
So fuc* that little mouse cuz I'm an Albatraoz
I'm an albatraoz
I'm, I'm, I'm…
Stop!
I got it
I'm an albatraoz
This is albatraoz
Traduzione
Signori e signori
Per favore
preparatevi per AronChupa e Albatraoz
Vai!
Permettetemi di raccontare a voi tutti la storia della topina Lorry
Eh sì, Lorry era una topina che viveva in una grande casa marrone
Si definiva una c*gna, ma con tanti, tanti soldi
Però che si fo*ta quella topina, perché io sono un Albatraoz
Eh sì, Lorry diceva di essere una topina, ma mangiava formaggio affumicato come un vero boss
Soldini soldi soldi c*gna, brutto muso giallo
Lorry era una strega, sì una un'infida piccola c*gna
Perciò che si fo*ta quella topina, perché io sono un Albatraoz
Sono un albatraoz
Sono un albatraoz
Capito!
Sono un albatraoz
Io sono, io sono, io sono …
Stop!
Capito
Sono un albatraoz
Questo è albatraoz