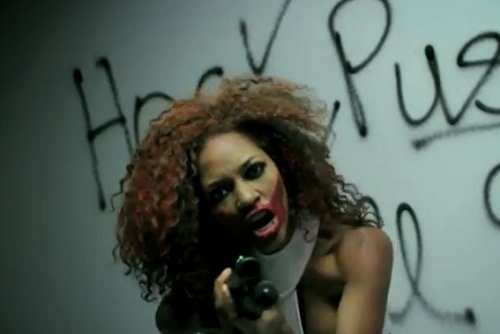 Quanta rabbia e quanta voglia di essere ascoltati manifesta l'ultimo singolo del rapper americano Ludacris che ha da poco messo on line il video del suo ultimo singolo, Bada Boom. Nel pezzo il cantante si rivolge direttamente ai suoi fans e a tutti i rapper del panorama musicale: artisti che lui chiama "cloni". Ludacris non si arrende e, forte del suo successo, annuncia l'uscita di Ludaversal, un disco che uscirà nel 2012 e che vedrà la collaborazione di David Guetta, Nelly, Kanye West e Ne-Yo.
Bada Boom – Video
Bada Boom – Testo
Big Bada boom, Luda's in this bitch
P-ssy niggas clear the room
I came through the door, I said it before
I'm the truth in this bitch and you niggas all hoes
Counterfeit rappers say I'm stealing their flows,
but I can't steal what you never made up bitch
Y'all some duplicate rap cloning niggas
I manufacture you hoes put on your makeup Bitch
Let me explain, nothing's been new since Big Daddy Kane
Flows will get recycled passed around to different names
But what's the same, that every verse I spit is insane
Got more styles than any rapper in the game, 11 years and still counting
And ya'll get a couple hit records, make some noise and have the nerve to start shouting
Who's gassing 'em, they blowing smoke up your ass, you fired up but I'm just puff puff passin' 'em
Until they roaches, buried in my ashtray
Nigga burn slow, better pray like it's your last day
You lying to yourself, just admit it
May not like the way I use it but you know you ain't invent it boy
Do your research before you make a claim so bogus
Thats disrespecting pioneers in the game
F-ck the fame but go ahead and get ya 5 minutes
Then you front line cadets can report to your lieutenants (sir, yes sir)
See I'm ya past, I'm ya future and ya present
So watch ya f-cking mouth when you speak about a legend
16 times platinum, 6 number 1′s
So I can give a f-ck what you sold in ya first week
You's weak, softer than the Pillsbury dough boy
Don't make me expose the truth, you's a hoe boy
Don't make me get on that Stomp shit and get back at it
You rappers ain't even in my f-cking tax bracket
Why am I wasting my time
Yeah I admit I get a little Ludacris with my rhymes, sometimes
But my fans know the difference because "My Chick Bad" went platinum still winning muthaf-cka
The nerve of you niggas man, you ain't got enough medals on your jacket to address me boy
Fall back in formation, y'all outta line
I was told not to kill a mosquito with a cannon
So the next time you not got a real problem
Don't be a coward like a nigga that used to be signed to be going on twitter rants and shit
Nigga say it to my face
Bada Boom – Traduzione
Big Bada boom, Luda è in questa str*****
Le donne puliscono la stanza
Sono entrato dalla porta, l'ho detto prima
Sono l'unica cosa vera in tutte queste str*****
Rapper contraffatti dicono che rubo le loro note
Ma non posso rubare una cosa che non hai mai fatto, stron**
Siete tutti dei cloni
Io creo davvero, toglietevi quel trucco voi!
Lasciate che mi spieghi, niente è vero dopo il Daddy Kane
Le rime verranno riciclate e battezzate con nuovi nomi
Ma ogni verso che sputo fuori è folle
Ho più stile di tutti i rapper ancora oggi dopo 11 anni
Avrete una copia delle hit, fate rumore e gridate
Seppelliti in un posacenere
Bruciano lentamente, meglio pregare, oggi è l'ultimo giorno
Hai mentito a te stesso, ammettilo
Non potrà piacerti il modo in cui l'ho usato ma non l'hai inventato tu
Documentati prima di lamentarti
Stai disprezzando i pionieri di questo gioco
F***** la fama, prova per 5 minuti
Vedi, sono il passato, futuro e presente
Quindi fai attenzione alla tua bocca quando parli di una leggenda
16 volte platino, 6 numeri 1
Quindi non mi frega un c**** di quanto hai venduto in questo week end
Sei debole, non parlare a me di verità
Perché sto sprecando tempo
Ammetto di essere un po' Ludacris mentre faccio rap
Ma i miei fans sanno perché la mia "My Chick Bad" è un platino e sta ancora vincendo
Non hai abbastanza medaglie per parlare con me
Mi era stato detto di non uccidere un moscerino con un colpo di cannone
Quindi la prossima volta non avrei grossi problemi
Non essere un codardo come quelli che vanno su Twitter per dire merd***
Dimmelo in faccia