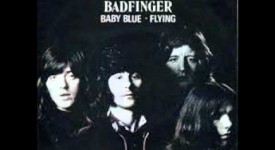 Baby Blue è una canzone dei Badfinger tratta dall'album Straight Up del 1971.
Il gruppo gallese, fondato nel 1964, è tornato alla ribalta grazie anche alle serie tv Breaking Bad dove la canzone Baby Blue fa da colonna sonora alla puntata finale.
Di seguito testo e traduzione.
Testo – Baby Blue
Guess I got what I deserve
Kept you waiting there, too long my love
All that time, without a word
Didn't know you'ld think, that I'd forget, or I'd regret
The special love I have for you, my Baby Blue
All the days became so long
Did you really think, I'd do you wrong
Dixie, when I let you go
Thought you'ld realize, that I would know, I would show
The special love I have for you, my Baby Blue
What can I do, what can I say
Except that I want you by my side
How can I show, you, show me a way
Don't you know, the times I tried
Guess that's all I have to say
Except the feeling just gets stronger, everyday
Just one thing, before I go
Take good care, baby, let me know, let it grow
The special love, you have for me, my Dixie dear
 Traduzione
 Immagino di aver ottenuto quello che mi merito
Fatta aspettare lì, troppo a lungo amore mio
Per tutto quel tempo, senza una parola
Non sapevo che avresti pensato, che avrei dimenticato, o mi sarei pentito
 Il particolare amore che ho per te, la mia Baby Blu.
Tutti i giorni sono diventati così lunghi
Pensavi davvero che, ti avrei fatto torto
Dixie, quando mi lascio andare
Pensavo tu ti rendersi conto, che volessi sapere, volessi mostrare
Il particolare amore che ho per te, la mia Baby Blue
Cosa posso fare, cosa posso dire
Tranne che voglio tu al mio fianco
Come posso mostrare, si, mi mostri un modo
Non lo sai, le volte che ho provato
Direi che è tutto quello che ho da dire
A parte che il sentimento diventa solo più forte, tutti i giorni
Solo una cosa, prima di andare
Prenditi cura, bambina, fammelo sapere, lasciarlo crescere
L'amore speciale, che hai per me, mia cara Dixie