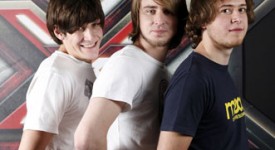 The Bastard Sons Of Dioniso tornano con un nuovo singolo, Samurai, estratto dall'album omonimo uscito nell'aprile 2014.
Ricordiamo che la band ha partecipato al talent show di X Factor nel 2009, nel team capitanato da Mara Maionchi.
Da allora, Jacopo Broseghini (voce e basso), Michele Vicentini (voce e chitarra)  e Federico Sassudelli (voce e batteria) hanno continuato a fare musica ed ora ci propongono questo nuovo pezzo. Di seguito il testo di Samurai.
Testo – Samurai
Sorrido compiaciuto pronto per stare qui
resto muto
con la risposta in tasca per non dirti di no
la tabula rasa che non riempirò mai
abbastanza
in una stanza buia per non dire vedrò
Che cosa vuoi che ti dica?
Sappiamo che così è la vita
e quando sembra finita
ricomincia qui la partita
Se parlare può far molto male a chi
è senza parole
ti do un rimario per sapere cosa dirò
è la fretta che ho
o gli occhi che hai
bambolina voodoo
contro un samurai
sai cosa vuoi
ma non lo fai
non vuoi sentire mai
Che cosa vuoi che ti dica?
C'è uno spiraglio una via d'uscita?
E quando sembra finita
ricomincia qui la partita
E quando sembra finita
c'è uno spiraglio una via d'uscita
Che cosa vuoi che ti dica?
Rimango ostaggio della mia vita
Sai cosa vuoi
ma non lo fai
è la fretta che ho
o gli occhi che hai
bambolina voodoo
contro un samurai
sono gli occhi che hai
gli occhi che hai
gli occhi che hai