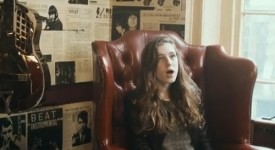 People help the people è una splendida canzone dei Cherry Ghost, una band indie rock inglese, nata nel 2005.
Birdy ha deciso di fare una sua cover di questa canzone, che ha inserito nel suo omonimo album di debutto.
La cantante e pianista inglese è stata di recente anche nello show di Amici di Maria De Filippi.
Di seguito testo e traduzione di People help the people.
Testo – People help the people
God knows what is hiding in that weak and drunken heart
I guess you kissed the girls and made them cry
those Hardfaced Queens of misadventure
God knows what is hiding in those weak and sunken eyes
a Fiery throng of muted angels
Giving love and getting nothing back
People help the people
And if your homesick, give me your hand and i'll hold it
People help the people
And nothing will drag you down
Oh and if I had a brain, Oh and if I had a brain
i'd be cold as a stone and rich as the fool
That turned, all those good hearts away
God knows what is hiding, in that world of little consequence
Behind the tears, inside the lies
A thousand slowly dying sunsets
God knows what is hiding in those weak and drunken hearts
I guess the loneliness came knocking
No on needs to be alone, oh save me
People help the people
And if your homesick, give me your hand and i'll hold it
People help the people
Nothing will drag you down
Oh and if I had a brain, Oh and if I had a brain
I'd be cold as a stone and rich as the fool
That turned, all those good hearts away
People help the people
And if your homesick, give me your hand and I'll hold it
People help the people
Nothing will drag you down
Oh and if I had a brain, Oh and if I had a brain
I'd be cold as a stone and rich as the fool
That turned, all those good hearts away
Traduzione
Dio sa cosa quei cuori deboli e ubriachi nascondono
immagino che tu abbia baciato le ragazze
e dopo tu le abbia fatte piangere
quelle regine di disavventura dai lineamenti duri
Dio sa cosa quegli occhi deboli e infossati nascondono
un'ardente schiera di angeli in sordina
che danno amore senza volere nulla in cambio
le persone si aiutano
e se hai nostalgia di casa, dammi la tua mano
e io la stringerò, le persone si aiutano
e niente ti trascinerà verso il basso
e se avessi un cervello, se avessi un cervello
sarei freddo come un sasso e ricco come uno stupido
loro si voltano alla vista di quei cuori buoni
Dio sa cosa quel mondo di poca importanza nasconde
dietro alle lacrime, dentro le bugie
un migliaio di tramonti lenti che muoiono
Dio sa cosa quei cuori deboli e ubriachi nascondono
immagino che la solitudine venga a bussare
nessuno ha bisogno di stare da solo, salvami
le persone si aiutano
e se hai nostalgia di casa, dammi la tua mano
e io la stringerò, le persone si aiutano
e niente ti trascinerà verso il basso
e se avessi un cervello, se avessi un cervello
sarei freddo come un sasso e ricco come uno stupido
loro si voltano alla vista di quei cuori buoni
le persone si aiutano
e se hai nostalgia di casa, dammi la tua mano
e io la stringerò, le persone si aiutano
e niente ti trascinerà verso il basso
e se avessi un cervello, se avessi un cervello
sarei freddo come un sasso e ricco come uno stupido
loro si voltano alla vista di quei cuori buoni