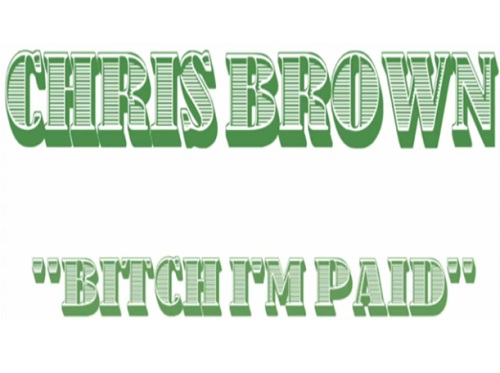 Denaro, donne e sesso: la reputazione di Chris Brown non fa che infittirsi. In attesa dell'uscita del suo ultimo album, Fortune, Chris Brown distribuisce on line l'audio ufficiale del suo nuovo singolo, Bitch I'm paid. Ascoltatelo dopo il salto!
Bitch I'm paid – Audio
Bitch I'm paid – Testo
Bitch im paid, thats all i gotta say
She drop it on the floor and its money on the way
I say bitch i'm paid thats all i gotta say
When you talk about the money pedi-k pedi-k
I say bitch i'm paid, that's all i gotta say
When the media to talk about the niggas gonna bluh
And roll up bitch i'm paid it's all i gotta say
Every fuckin day i'm gettin paid
I'm grindin hard but this money is callin the shut
Got that big banking this money long and they stick in my hand the pot
With this rolex i ball flex and my ears looking like ah
Better better gone here get bullshit
'Cause i ain't talking you not better put your hands on
You wanna knuckle up
Say you got the ride for the buff
I got bands up on them dancers when your ship is up you come f*ckwith us
It's a real nigga a fair 'cause them real niggas in here
Girl better get upon me for a real nigga disappear
Got that ghost outside waiting ..cameras hating
Got my shades on nigga wanna call
Wanna talk that shit elevate, all my nigga celebrate
If my bitches stat you snippin you'll be proud up in my base and
No location that she crap
What you mean i big hit it, are you talkin bout my dick
What you mean that shit peddy, are you talkin bout my bitch
Talking bout my ..i'm a light brighten
And talking bout my wrist
Didn't know i could rap right, nuh
But this that shit
Hook
I knock operate my occupation is to occupy
All this nation give me communication with your lady
In my new mercedes, i'm riding down with my..
Too much smoke up in my wee
Better let that shit roll ice
Better get me nah nah nah
Call me ..and call me papa
I'ma be your kicky my style
Go ..like a nigga whine up
But you know a nigga really want you
Bang bang i did the damn thing
But you really hit it again and make a bitch role up
I own this necklace matter of fact that's really my shit
That's my ring, that's my range
I'ma put to make your bitch my bitch
I said money ain't never an issue
Grind nigga gonna take a tissue
It's crazy in the club the night
And nigga ain't seeing you
Bitch I'm paid – Traduzione
Str**** ho pagato, ecco cosa posso dire
L'ha fatto cadere a terra e i suoi soldi con quello
Str**** ho pagato, ecco cosa posso dire
Quando parli dei soldi
Str**** ho pagato, ecco cosa posso dire
Quando la stampa parla dell'arrivo dei neri
Str**** ho pagato, ecco cosa posso dire
Lo pago ogni giorno
Sto soffrendo molto ma questi soldi
Si appiccicano sulla mia mano
Quando questo Rolex
…
Le mie orecchie fanno "ah"
Meglio andare, meglio andare
Perché è meglio che ti parli prima che ti prenda a sberle
Vuoi schioccare le dita
…
E' una fiera perché qui ci sono neri veri
Ragazza, faresti meglio a alzarti davanti a me prima che spariscano
Quel fantasma accanto a me è svanito
Puoi parlare, tutti i neri festeggiano
… Consa intendi, sai parlando del mio c****
Cosa intendi che sono arrabbiata, sai parlando della mia tr***
Parli del mio … Sono una luce accesa e parli del mio polso
Non sapeva sapessi rappare, nuh
Ritornello
La iaoccupazione è di occupare, questa nazione mi fa comunciare con la tua donna Nella mia nuova Mercedes, sto guidando con la mia…
Troppo fumo nella mia pipì, meglio che quella m**** diventi ghiaccio
Chiamami, chiamami papa
Sarò il pepe nel tuo stile
Sai che un nero ti vuole
Bing bang, ho fatto quella dannata cosa
Possiedo questa collana, è davvero m**** mia
E' il mio anello
Farò la tua tr*** la mia tr***
Ho detto che i soldi non sono un problema
E' folle il club questa notte
Non ti vedo neanche!