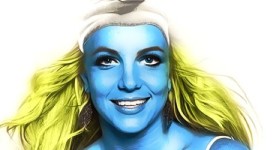 Britney Spears è diventata blu. Ma non per qualche strana malattia, bensì per cantare la sua nuova canzone. Il nuovo singolo della Spears, infatti, farà parte della colonna sonora de I Puffi 2, che potremo vedere sugli schermi a partire dal prossimo 31 luglio.
Ooh la la, questo il titolo, è molto pop e molto orecchiabile, e non potrebbe essere altrimenti visto lo scopo per la quale è stata creata. Lei stessa, ora che è anche madre, si è detta molto felice di questa opportunità ed si dice sicura che anche tutti i suoi fan apprezzeranno questa sua cartoonizzazione.
Testo – Ooh la la
You don't have to look like a movie star
Ooh I think you're good just the way you are
Tell me if you could would you up and run away with me?
You don't have to roll like a millionaire
Baby I would go with you anywhere
We don't need no gold, we'll be shining anyway, we'll see
You know can nobody get down like us
We don't stop 'till we get enough
C'mon, turn it up 'till the speakers pop
Break it down, show me what you've got
Ooh my my baby don't be shy
I see that spark flashing in your eye
My heart beats fast 'cause I want it all
So baby come with me and be my ooh la la
Take my hand, we can go all night
And spin me round just the way I like
It feels so good, I don't wanna stop
So baby come with me and be my ooh la la
You don't have to wear no designer clothes
Just as long as we're dancing on the floor
Fingers in my hair and I'm letting go tonight, so free
Traduzione
Non devi somigliare ad una stella del cinema
credo che tu vada bene così come sei
dimmi, se potessi, verresti via con me?
Non devi sembrare un milionario
Baby, verrei con te ovunque
Non ci serve l'oro, brilleremo di luce propria, vedrai
Sai che nessuno si muove come noi?
Non ci fermeremo finché non ne avremo abbastanza
Avanti, alza finché non scoppiano le casse
interrompi, fammi vedere cos'hai
Oh baby baby non essere timid
Vedo quella scintilla che ti brilla negli occhi
Il mio cuore batte forte perchéé voglio tutto
Baby vieni con me e sii il mio ooh la la
Prendi la mia mano, possiamo andare per tutta la notte
Fammi girare come piace a me
Mi sento così bene, non mi voglio fermare
Baby, vieni con me e sii il mio ooh la la
Non ti servono i vestiti di marca
Mentre balliamo sulla pista
Le dita tra i capelli e lascio perdere tutto stanotte, così libera