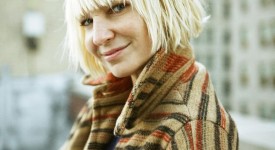 Burn the pages è il nuovo singolo di Sia, la cantautrice australiana che ha di recente pubblicato il suo nuovo disco 1000 Forms of Fear, uscito nel luglio 2014.
Questo brano arriva dopo Chandelier, Eye of the needle e Big girls cry. Il brano è stato scritto a quattro mani dalla Furler insieme a Greg Kurstin che l'ha anche prodotta.
Il brano è decisamente nello stile della nuova era discografica della cantante, un po' distante dalle atmosfere tormentate degli inizi.
Di seguito il testo e la traduzione di Burn the pages.
Testo – Burn the pages
You're dark grey like a storm cloud
Swelling up with rain that is desperate to be let out
And I know it's a heavy load carrying those tears around
Carrying those fears around
Worry makes the world go round
You're twisted up like a slipknot
Tied by a juice head, who just took his T-shirt
And I know there's a hungry dog
Tugging at your frayed ends
But he's just playing with you, he just wants to be your friend
So don't worry don't worry
I'm here by your side
By your side, by your side
We're letting go tonight
Yesterday is gone and you will be OK
Place your past into a book
Burn the pages let them cook
Yesterday is dead and gone and so today
Place your past into a book
Burn the pages let them cook
Eyes stinging from the black smoke
New hope, loose rope
Risen from the undertow
All is well we welcome the cry of the dark night sky
Swallow me peacefully, follow my heart back inside
So don't worry don't worry
I'm here by your side
By your side, by your side
We're letting go tonight
Yesterday is gone and you will be OK
Place your past into a book
Burn the pages let them cook
Yesterday is dead and gone and so today
Place your past into a book
Burn the pages let them cook
Don't worry don't worry
I'm here by your side
By your side, by your side
We're letting go tonight
Yesterday is gone and you will be OK
Place your past into a book
Burn the pages let them cook
Yesterday is dead and gone and so today
Place your past into a book
Burn the pages let them cook
Traduzione
Sei grigio scuro come una nube di tempesta
Gonfiandosi con la pioggia che sta cercando disperatamente di uscire
E io so che è un fardello trasportare quelle lacrime intorno
Trasportando quelle lacrime intorno
La preoccupazione fa girare il mondo
Sei contorto come un nodo scorsoio
Legato da una testa che ha appena tocca la T-shirt
E so che c'è un cane affamato
che tira le le tue estremità sfilacciate
Ma sta solo giocando con te, lui vuole solo essere tuo amico
Quindi non ti preoccupare non ti preoccupare
Sono qui al tuo fianco
Al tuo fianco, al tuo fianco
Stiamo lasciando andare stasera
Sei grigio scuro come una nube di tempesta
Gonfiore con pioggia che sta cercando disperatamente di essere lasciato fuori
E io so che è un carico pesante che trasporta quelle lacrime intorno
Portare quei timori intorno
Preoccupazione fa girare il mondo
Stai contorto come un nodo scorsoio
Legato da una testa di succo di frutta, che ha appena preso la sua T-shirt
E so che c'è un cane affamato
Tirando le vostre estremità sfilacciate
Ma sta solo giocando con te, lui vuole solo essere tuo amico
Quindi non ti preoccupare non ti preoccupare
Sono qui al tuo fianco
Al tuo fianco, al tuo fianco
Stiamo lasciando andare stasera
Ieri è passato e tu starai bene
Metti il tuo passato in un libro
Brucia le pagine, lasciale cuocere
Ieri è morto e sepolto, e così oggi
Metti il tuo passato in un libro
Brucia le pagine, lasciale cuocere
Occhi che bruciano dal fumo nero
Nuove speranze, corda allentata
Risorto dalla risacca
Tutto è bene accogliamo il grido del cielo notturno
Ingoiami tranquillamente, seguire il mio cuore dentro
Quindi non ti preoccupare non ti preoccupare
Sono qui al tuo fianco
Al tuo fianco, al tuo fianco
Stiamo lasciando andare stasera
Ieri è passato e tu starai bene
Metti il tuo passato in un libro
Brucia le pagine, lasciale cuocere
Ieri è morto e sepolto, e così oggi
Metti il tuo passato in un libro
Brucia le pagine, lasciale cuocere
Quindi non ti preoccupare non ti preoccupare
Sono qui al tuo fianco
Al tuo fianco, al tuo fianco
Stiamo lasciando andare stasera
Ieri è passato e tu starai bene
Metti il tuo passato in un libro
Brucia le pagine, lasciale cuocere
Ieri è morto e sepolto, e così oggi
Metti il tuo passato in un libro
Brucia le pagine, lasciale cuocere