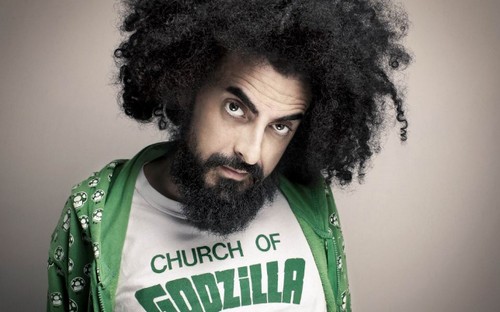 Kevin Spacey è il titolo del nuovo singolo di Caparezza, tratto da Il sogno eretico, ultimo album di successo del rapper pugliese. Dopo il salto vi proponiamo il testo e l'audio del brano.
http://www.youtube.com/watch?v=sbJSXEpY6k0
Kevin Spacey – Testo
Non per la politica dovete odiarmi
non per la voce nasale ma per questo pezzo
adesso avete un motivo.. avete un motivo
in fight club edward norton ha le turbe
non esiste nessun tyler durden
in shutter island di caprio è un malato
mentale capace di architettare trame assurde.
nel sesto senso bruce willis è un morto
nelle 12 scimmie è il morto.
'hey ragazzi ma che fine ha fatto bruce willis?
sapete se un film è in porto?'
the others: sono loro gli spettri
beh dopo il sesto senso cosa cazzo ti aspetti?
hai presente kevin spacey?
bene è lui kaiser souse nei soliti sospetti
serial killer di seven? kevin spacey
cattivo di superman? kevin spacey
perfetto criminale? kevin spacey
"ho capito non c'è bisogno che mi stressi"
and the winner is kevin spacey
l'engmista è il cadavere della prima scena
nel codice da vinci il graal è la maddalena
blair witch project non è una storia vera
decidi tu se ne vale la pena..
io e marley? alla fine il cane muore.
nel film hachiko il cane muore.
bruce willis in the jackal muore
come il cinema col cinepanettone.
in profondo rosso l'assassino è la madre
in psycho norman è l'assassino della madre.
se ti interessa il genere ti basterà guardare
porta a porta. primo canale.
in sid & nancy sid uccide nancy.
sti decessi.. sempre lì nei cessi..
il colonnello di american beauty è gay si
..ed uccide kevin spacey
se ti infastidisco skippa e vai oltre
sentiti 'sto disco o skippa e vai oltre.
non hai visto star wars? dai forte
darth vader è il padre di luke skywalker
e il mago di prestige ha un gemello
the game non è un tranello
è un gioco del fratello
la moglie del soldato ha il pisello
e bruce willis muore in armageddon.
passione di cristo? http://airdave.it pensione di gibson
e' un robot quello messo sul crocifisso..
ti disturba? beh.. a me disturba che la trama
di disturbia sia la stessa di hitchcock.
il curioso caso di benjamin button
lo vedi al contrario ed è un film come un altro ma..
ma.. ma.. che ti aspettavi ti dicessi?
"and the winner kevin spacey".