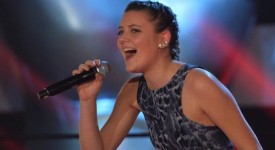 In un attimo è il nuovo singolo di Carola Campagna, la giovanissima finalista di The Voice of Italy.
Il brano è estratto dal suo EP d'esordio, Carola, uscito nel luglio 2015 e nel quale si può trovare anche il pezzo Se Solo, colonna sonora del film Disney per la TV Descendents.
Di seguito il testo di In un attimo.
Testo – In un attimo
Resto a guardarti sempre lì
tra i mille pensieri tuoi
non senti questa energia
c'è tutto un mondo per te
lascia che la fantasia ti trascini via
le paure che non hanno senso
c'è una sola verità
devi credere in te
non temere di essere te stesso
Il mondo gira attorno a te
se solo lo vuoi tu
e vibra il corpo e l'energia risveglia la magia
in un attimo
è come un fuoco che hai dentro
in un attimo
e non può essere spento
se lo vuoi, se tu vuoi
Non puoi restare sempre lì
se tu non provi non sai
trova il coraggio che hai dentro te
tutta la forza che hai
lascia che la fantasia ti trascini via
tutti i dubbi svaniranno presto
c'è una sola verità
non fermarti mai
non aver paura di sognare
Il mondo gira attorno a te
se solo lo vuoi tu
e vibra il corpo e l'energia risveglia la magia
in un attimo
è come un fuoco che hai dentro
in un attimo
e non può essere spento
se lo vuoi, se tu vuoi
se lo vuoi, se tu vuoi
Guardami negli occhi adesso
siamo solamente io e te
con me puoi essere te stesso
io ci voglio credere ora con te
Il mondo gira attorno a te
se solo lo vuoi tu
e vibra il corpo e l'energia risveglia la magia
Il mondo gira attorno a te
se solo lo vuoi tu
e vibra il corpo e l'energia risveglia la magia
in un attimo
è come un fuoco che hai dentro
in un attimo
e non può essere spento
se lo vuoi, se tu vuoi
se lo vuoi, se tu vuoi
se lo vuoi, se tu vuoi
è come un fuoco che hai dentro
se lo vuoi, se tu vuoi