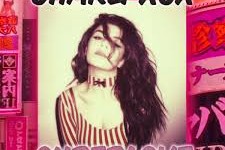 Un'altra giovane inglese si affaccia al mercato internazionale, lei è Charlotte Emma Aitchson, ma da tutti è conosciuta come Charli XCX?
Charli XCX è anche l'artefice di "I love it", portata al successo dalle Icona Pop, sulla scia del quale lei rilancia il suo primo disco "True romance" uscito lo scorso aprile con il singolo "Superlove".
Testo – Superlove
You're whiskey, wasted, and beautiful dancing through the fire
You're such a vision to see
I used to think that the power of love was just a song
But now it's got hold in me
S.O.S, is it me? or this is dangerous?
Kill me with your touch
You're soaken through my blood
R.I.P, set me free, yeah, this is dangerous
I can't get enough
Wanna fall into your super love
Yeah my heart never wants it to stop, please save me
Cause I never seem to get enough, you're the bullet and you're making me drop
Please save me
So give me all of your super love, 'cause my body is so close to you, I'm waiting
Dive here, and your arms falling there with you
Feels like I'm tripping, I'm falling hard from the highest heights
When I crash where will you be?
I think your hair looks much better pushed over to one side
How do you feel about me?
S.O.S, this is real, and this is dangerous
You're my favorite drug, I smoke you in the car
R.I.P, what a dream, you're so damn dangerous
I can't get enough
Wanna fall into your super love
Yeah my heart never wants it to stop, please save me
Cause I never seem to get enough, you're the bullet and you're making me drop
Please save me
So give me all of your super love, 'cause my body is so close to you, I'm waiting
Dive here, and your arms falling there with you
Wanna fall into your super love
Cause I never seem to get enough
Give me all of your super love
I'm waiting
Dive here, and your arms falling there with you
Wanna fall into your super love
Yeah my heart never wants it to stop, please save me
Cause I never seem to get enough, you're the bullet and you're making me drop
Please save me
So give me all of your super love, 'cause my body is so close to you, I'm waiting
Dive here, and your arms falling there with you
Wanna fall into your super love
Yeah my heart never wants it to stop, please save me
Cause I never seem to get enough, you're the bullet and you're making me drop
Please save me
So give me all of your super love, 'cause my body is so close to you, I'm waiting
Dive here, and your arms falling there with you