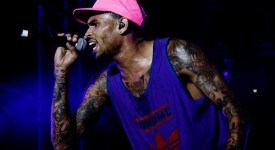 Don't be gone too long è il nuovo singolo di Chris Brown, contenuto nell'album X, uscito nel settembre 2014.
Il pezzo è in duetto con la giovane cantante Ariana Grande, ed è stato scritto dallo stesso Brown insieme a Michael McHenry, Ryan Buendia, Kyle Edwards, Jean Baptiste, Scott Hoffman alias Babydaddy e Clarence Coffee, Jr. dei The Monsters and the Strangerz. La produzione è invece stata curata da Jean Baptiste,  Free School e Babydaddy.
Di seguito il testo e la traduzione di Don't Be Gone Too Long.
Testo – Don't be gone too long
[Verse 1]
I dug a single seed into the ground
I hope it grows, grows
In a year or two if you're around you'll see a rose, rose
Pack me up and keep me hidden somewhere that you can find me
On this train to Paris going nowhere, trouble is behind me
[Hook]
Don't be gone too long (too long)
Cause you won't be there to love me when you're gone
Don't be gone too long (too long)
Tell me who's gonna love me when you're gone
[Verse 2: Chris Brown & Ariana Grande]
Golden leaves are dancing on the ground
It's getting cold, cold
Safe from time, we'll be forever young
Never old, old
See you [?] out in space, [?] behind me
All the wondering in your face
[Hook]
Don't be gone too long (too long)
Cause you won't be there to love me when you're gone
Don't be gone too long (too long)
Tell me who's gonna love me when you're gone
[Bridge]
Bring it back to me, bring it back to me
Is it really over?
Bring it back to me, bring it back to me
[Hook]
Don't be gone too long (too long)
Cause you won't be there to love me when you're gone
Don't be gone too long (too long)
Tell me who's gonna love me when you're gone
Don't be gone too long (too long)
Cause you won't be there to love me when you're gone
Don't be gone too long (too long)
Tell me who's gonna love me when you're gone
Traduzione
[Verse 1]
Ho piantato un solo seme nel terreno
Spero che cresca, cresca
In un anno o due, se sarai in giro, vedrai una rosa, una rosa
Raccoglimi e tienimi nascosta da qualche parte in modo che tu possa trovarmi
Su questo treno per Parigi andando da nessuna parte, il guaio è dietro di me
[Hook]
Non stare via troppo a lungo (a lungo)
Perché non puoi essere lì per amarmi quando sei via
Non stare via troppo a lungo (a lungo)
Dimmi chi mi amerà quando sarai andato via
[Verse 2: Chris Brown & Ariana Grande]
Foglie d'oro danzano sul terreno
Si sta facendo freddo, freddo
Al sicuro dal tempo, saremo sempre giovani
Mai vecchi, vecchi
Ci vediamo [?] Nello spazio, [?] Dietro di me
Tutte le domande sul tuo volto
[Hook]
Non stare via troppo a lungo (a lungo)
Perché non puoi essere lì per amarmi quando sei via
Non stare via troppo a lungo (a lungo)
Dimmi chi mi amerà quando sarai andato via
[Bridge]
Portalo di nuovo a me, riportalo a me
E' davvero finita?
Portalo di nuovo a me, riportalo a me
[Hook]
Non stare via troppo a lungo (a lungo)
Perché non puoi essere lì per amarmi quando sei via
Non stare via troppo a lungo (a lungo)
Dimmi chi mi amerà quando sarai andato via
[Hook]
Non stare via troppo a lungo (a lungo)
Perché non puoi essere lì per amarmi quando sei via
Non stare via troppo a lungo (a lungo)
Dimmi chi mi amerà quando sarai andato via