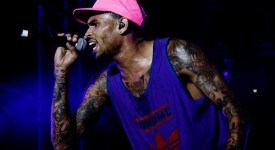 New flame è il nuovo singolo di Chris Brown, realizzato con la collaborazione di Usher e Rick Ross. Il nuovo album del cantante non ha ancora una data d'uscita ufficiale, bisognerà quindi attendere ancora un po', mentre la canzone la si potrà ascoltare già dal 1 agosto 2014.
Si tratta di una nuova versione di un pezzo presentato già come singolo promozionale del sesto album dell'artista, ma ora vede questi nuovi contributi.
Di seguito il testo e la traduzione di New flame.
Testo – New flame
[Verse 1 — Chris Brown:]
There can be one only you
And, baby, God can never make two
And I know you came here with your crew
But I promise you that it feels like it's just us two, aha.
[Bridge — Chris Brown:]
Oh, I don't know what you had planned to do tonight
But I just wanna be the one to do you right, right
And we're standing here looking at each other, baby, eye to eye
And I'm hoping that you're thinking about leaving with me tonight
[Hook — Chris Brown:]
Who said you can't find love in the club?
'Cause I wanna tell them they're wrong
Come on, just, baby, try a new thing
And let's spark a new flame
You gon' be my baby
Love me, love you crazy
Tell me if you with it
Baby, come and get it
Try a new thing
And let's spark a new flame
[Verse 2: Usher]
I can't believe you came here all alone, baby girl, where's your lover?
Oh, it don't really matter 'cause I got plans to get to know you better, yeah.
Baby, baby, baby, baby, let's make what we got here last forever
Girl, 'cause I don't wanna let you go, never
[Bridge:]
Oh, I don't know what you had planned to do tonight
Girl, I just wanna be the one to do you right, right
And we're standing here looking at each other, baby, eye to eye
Baby, I hope that you're thinking about leaving with me tonight
[Hook:]
Who said you can't find love in the club?
'Cause I wanna tell them they're wrong
Come on, just, baby, try a new thing
And let's spark a new flame
You gon' be my, baby
Love me, love you crazy
Tell me if you with it
Baby, come and get it
Maybe try a new thing
And let's spark a new flame
[Verse 3 — Rick Ross:]
Home plate, world series, our nigga sliding in her
Baby, I'm a boss, I'm talking George Steinbrenner
Panamera, Yogi Bear'er, my two-seater Derek Jeter
Got more stripes than all these niggas
Babe Ruth balling in a Beamer
Collar on my Polo, kisses on my necklace
All my diamonds watching, now my watches getting jealous
Smoking on a bomb in my autograph Lebron's
Yeah, she told me I'm the one, that's when I only hit it once
[Hook — Chris Brown:]
Who said you can't find love in the club?
'Cause I wanna tell them they're wrong
Come on, just, baby, try a new thing
And let's spark a new flame
You gon' be my, baby
Love me, love you crazy
Tell me if you with it
Baby, come and get it
Try a new thing
And let's spark a new flame
Traduzione
[Chris Brown]
Ci può essere solo una versione di te
E baby, Dio non potrà mai fare una copia di te
E so che sei venuta qui con il tuo gruppo
Ma ti prometto che ti sentirai come se ci fossimo solo noi due
Oh non so cosa devi fare stanotte
Ma voglio essere il solo che ti tratta bene
Stiamo qui che ci guardiamo a vicenda, faccia a faccia
E spero che tu stia pensando ad andartene con me stanotte
Hai detto che sei venuta nel club per amore
Perché io voglio ballare, gioca con me nel modo sbagliato
Dai, baby, prova una nuova cosa
E facciamo nascere una nuova fiamma
Sarai la mia ragazza
Amami come se fossi pazza
Dimmi se sei pronta
Baby, vieni e prendimi
Baby, prova una nuova cosa
E facciamo nascere una nuova fiamma
[Usher]
Non riesco a credere che sei venuta qui da sola
Baby, dov'è il tuo amante?
Oh, non mi interessa, perché voglio solo conoscerti meglio
Baby, baby, baby, baby
Potrei stare qui a guardarti per sempre
Perché non ti lascerò mai andare, mai
[Bridge:]
Oh non so cosa devi fare stanotte
Ma voglio essere il solo che ti tratta bene
Stiamo qui che ci guardiamo a vicenda, faccia a faccia
E spero che tu stia pensando ad andartene con me stanotte
[Ritornello]
Hai detto che sei venuta nel club per amore
Perché io voglio ballare, gioca con me nel modo sbagliato
Dai, baby, prova una nuova cosa
E facciamo nascere una nuova fiamma
Sarai la mia ragazza
Amami come se fossi pazza
Dimmi se sei pronta
Baby, vieni e prendimi
Baby, prova una nuova cosa
(La accenderemo)
E facciamo nascere una nuova fiamma
(Rick Ross)
Casa, una serie di mondi, negri acidi che scivolano in lei
Baby, sono un boss, sto parlando George Steinbrenner
Panamera, Yogi Bear'er, la mia Derek Jeter a due posti
Ho più strisce di tutti questi negri
Baby, Ruth scopa in una Beamer
Collar sulla mia Polo, baci sulla mia collana
Tutti i miei diamanti sono guardati, adesso i miei orologi diventano gelosi
Fumando su una bomba e il mio autografo
Di Lebron
Sì, mi ha detto che sono quello giusto, che va sempre a segno
[Chris Brown]
Hai detto che sei venuta nel club per amore
Perché io voglio ballare, gioca con me nel modo sbagliato
Dai, baby, prova una nuova cosa
E facciamo nascere una nuova fiamma
Sarai la mia ragazza
Amami come se fossi pazza
Dimmi se sei pronta
Baby, vieni e prendimi
Baby, prova una nuova cosa
(La accenderemo)
E facciamo nascere una nuova fiamma