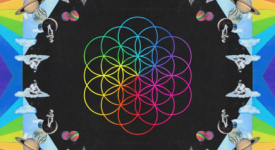 Adventure Of A Lifetime è il nuovo singolo dei Coldplay che va ad anticipare il nuovo album la cui uscita è prevista per il dicembre 2015.
Questo nuovo progetto discografico s'intitolerà A Head Full Of Dreams e sarà il disco successo re di Ghost Stories, ultimo lavoro della band di Chris Martin e soci che ha avuto enorme successo.
Di seguito il testo e la traduzione di Adventure Of A Lifetime.
Testo – Adventure Of A Lifetime
Turn your magic on, to me she'd say
Everything you want's a dream away
We are legends, every day
That's what she told him
Turn your magic on, to me she'd say
Everything you want's a dream away
Under this pressure, under this weight
We are diamonds
I feel my heart beating
I feel my heart underneath my skin
I feel my heart beating
Oh, you make me feel
Like I'm alive again
Alive again!
Oh, you make me feel
Like I'm alive again
Said I can't go on, not in this way
I'm a dream, I die by light of day
Gonna hold up half the sky and say
Oh, we are omen
I feel my heart beating
I feel my heart underneath my skin
Oh, I can feel my heart beating
'Cause you make me feel
Like I'm alive again
Alive again!
Oh, you make me feel
Like I'm alive again
Turn your magic on, to me she'd say
Everything you want's a dream away
Under this pressure, under this weight
We are diamonds taking shape
We are diamonds taking shape
(Woo, woo)
If we've only got this life
This adventure, more than I
And if we've only got this life
You'll get me through alive
And if we've only got this life
And this adventure, more than I
Wanna share with you
With you, with you
I said, oh, say oh
(Woo hoo, woo hoo…)
Traduzione
Accendi la tua magia, lei mi diceva
Tutto quello che vuoi è un sogno lontano
Siamo leggende, ogni giorno
Questo è ciò che lei gli diceva
Accendi la tua magia, lei mi diceva
Tutto quello che vuoi è un sogno lontano
Sotto questa pressione, sotto questo peso
Siamo diamanti
Sento il mio cuore battere
Sento il mio cuore sotto la mia pelle
Sento il mio cuore battere
Oh, mi fai sentire
Come se fossi di nuovo vivo!
Di nuovo vivo!
Oh, mi fai sentire
Come se fossi di nuovo vivo
Ho detto che non posso andare avanti, non in questo modo
Sono un sogno, muoio con la luce del giorno
Devo sostenere la metà del cielo e dire
Oh, siamo un presagio
Sento il mio cuore battere
Sento il mio cuore sotto la mia pelle
Sento il mio cuore battere
Perché tu mi fai sentire
Come se fossi di nuovo vivo!
Di nuovo vivo!
Oh, mi fai sentire
Come se fossi di nuovo vivo
Accendi la tua magia, lei mi diceva
Tutto quello che vuoi è un sogno lontano
Sotto questa pressione, sotto questo peso
Siamo diamanti che prendono forma
Siamo diamanti che prendono forma
(Woo, woo)
Se abbiamo solo questa vita
Questa avventura, più di me
E se abbiamo solo questa vita
Mi troverai vivo
E se abbiamo solo questa vita
E questa avventura, più di me
La voglio condividere con te
Con te, con te
Ho detto, oh, dico oh
(Woo hoo, woo hoo…)