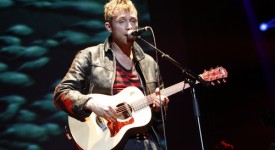 S'intitola Mr. Tembo il nuovo singolo di Damon Albarn  tratto dal suo album solista Everyday Robots, uscito nell'aprile 2014.
Everyday Robots, registrato lo scorso anno nello studio londinese di Albarn, lo studio 13, è prodotto da Richard Russell della XL Recordings, con il quale Damon aveva prodotto The Bravest Man In The Universe di Bobby Womack, e contiene collaborazioni con Brian Eno e Natasha Khan (Bat For Lashes). 
Ecco il testo e la traduzione di Mr. Tembo.
Testo – Mr. Tembo
Injili, Injili
Can I sing with you
'Bout Mr. Tembo and what he's got to do
But first I'm going back
To the [?]
To find the mission
And help him with his luck
Mr. Tembo is on his way up the hill
With only this song to tell you how he feels
But to get there he will need a helping hand
It's where he is now but it wasn't what he planned
It's where he is now but it wasn't what he planned
Injili, Injili
We will sing with you
Just like the TV
In Mr. Tembo's room
Off the emphatic night
He checked in on his own
At Mkombozi Inn and
Made it his home
Injili, Injili
We will sing to you
'Bout Mr. Tembo
And what he's going through
Gets up early
While you are still in bed
Mr. Tembo, green blanket by his head
Hey, you keep those lions off the front of the boat!
Good god, man! Have you some cotton in your ears?
I'm trying to run this expedition in a decent manner!
The 264 is gulf, bungalow, styles, canals, cows, haybells
Telegraph wires, pylon power
Farmhouse over chimneys still used
Stone, satellites, football, pictures, favorite flags, and lots of dogs
Neon cross on top of a block of slates on a church, not as usual
Traduzione
Injili, Injili
Posso cantare con te
Di Mr. Tembo e quello che deve fare
Ma prima vado indietro
Per il [ ? ]
Per trovare la missione
E aiutarlo con la sua fortuna
Mr. Tembo è sulla strada su per la collina
Con solo questa canzone per dirti come si sente
Ma per arrivarci avrà bisogno di una mano
È dove si trova ora, ma non era quello che aveva in mente
È dove si trova ora, ma non era quello che aveva in mente
Injili , Injili
Canteremo con te
Proprio come il TV
Nella stanza di Mr Tembo
Fuori dalla notte enfatica
Ha fatto il check in da solo
Al Mkombozi Inn e
L'ha reso la sua casa
Injili, Injili
Canteremo per te
Di Mr. Tembo
E quello che sta passando
Si alza presto
Quando tu sei ancora a letto
Mr. Tembo, una coperta verde sulla sua testa
Ehi, tieni quei leoni lontani dalla parte anteriore della barca!
Buon Dio, uomo! Hai del cotone nelle orecchie?
Sto cercando di fare questa spedizione in maniera decente!
Il 264 è golfo, bungalow, stili, canali, mucche, balle di fieno
Fili del telegrafo, tralicci
Fattorie con camini ancora usati
Pietra, satelliti, calcio, foto, bandiere preferite e un sacco di cani
Una croce al neon sulla cima di un blocco di ardesia in una chiesa, non come al solito