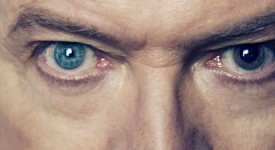 Il Duca Bianco ha stupito tutti quest'anno con la pubblicazione del suo nuovo album, "The Next Day" dal quale sono state estratte canzoni che hanno riscosso un grande successo, facendo schizzare verso l'alto il disco nelle classifiche di mezzo mondo.
Tra pochissimi giorni, il 5 novembre, uscirà la deluxe edition di questo ultimo album di David Bowie per la quale è stato scelto come singolo promozionale il brano "Love Is Lost" nella versione remixata ad opera di James Murphy.
Testo – Love Is Lost 
It's the darkest hour, you're 22
The voice of youth, the hour of dread
It's the darkest hour, and your voice is new
Love is lost, and lost is love
Your country's new, your friends are new
Your house, and even your eyes are new
Your maid is new, and your accent, too
But your fear is as old as the world
Say goodbye to the thrills of life
When love was good, when love was bad
Wave goodbye to the life without pain
Say hello, your beautiful girl
Say hello to the greater men
Tell them your secrets they're like the grave
Oh what you have done, oh what you have done
Love is lost, lost is love
You know so much, it's making me cry
You refuse to talk, but you think like mad
You've cut out your zone and the things have fold
Oh what have you done, oh what have you done
Oh what have you done, oh what have you done
Traduzione
E' l'ora più buia, hai ventidue anni
La voce della gioventù, l'ora della paura
E' l'ora più buia, la tua voce è nuova
L'amore è perso, e perso è l'amore
Il tuo paese è nuovo, i tuoi amici nuovi
La tua casa, anche i tuoi occhi sono nuovi
La tua cameriera è nuova, il tuo accento anche
Ma la tua paura è vecchia come il mondo
Dì addio ai brividi della vita,
Quando l'amore era bello, quando l'amore era brutto
Dì addio alla vita senza dolore
Dì ciao, bellissima fanciulla
Dì ciao agli uomini più grandi
Dì loro i tuoi segreti come se fossero tombe
Oh cosa hai fatto, oh cosa hai fatto
L'amore è perso, perso è l'amore
Sai così tanto, mi fai venire da piangere
Rifiuti fi parlare, ma pensi come una pazza
Hai tagliato fuori la tua zona e le cose che hai ripiegato
Oh cos'hai fatto, oh cos'hai fatto,
Oh cos'hai fatto, oh cos'hai fatto.