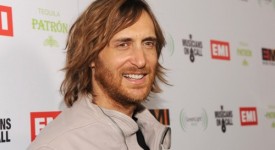 "Lovers on the sun" è il nuovo singolo del dj e producer francese David Guetta, realizzato con la voce di Sam Martin.
L'inedito arriva dopo 3 club tracks rilasciate negli ultimi mesi ovvero "Shot Me Down" feat. Skylar Grey, "Bad con Showtek" feat. Vassy e "Blast Off" con Kaz James.
Questa nuova canzone è stata prodotta dal deejay transalpino con la collaborazione di Avicii, Frédéric Riesterer e Giorgio Tuinfort, ed anticipa il rilascio del nuovo progetto discografico ancora senza titolo e release date.
Di seguito il testo e la traduzione di Lovers on the sun".
Testo – Lovers on the sun
Let's light it up, let's light it up
Until our hearts catch fire
And so the world, a burning light
They've never shined so bright
We'll find a way, we'll find a way
To keep the cold night
From breaking in over the walls
Into the wild side
The hunger satisfies
We're burning up
We might as well be lovers on the sun
We might as well be lovers on the sun
We might as well be lovers on the sun
We'll never know, we'll never know
What stands behind the North
But I got a feeling
It's a feeling that's we're dying for
Just close your eyes, and hold your breath
Because it feels right
We'll keep it moving till we make it to the other side
And let's enjoy the ride
We're burning up
We might as well be lovers on the sun
We might as well be lovers on the sun
We might as well be lovers on the sun
Let's light it up, let's light it up
Until our hearts catch fire
And so the world, a burning light
They've never shined so bright
Traduzione
Accendiamolo, accendiamolo
Fino a quando i nostri cuori prenderanno fuoco
E così il mondo, una luce che brucia
Non hanno mai brillato così forte
Troveremo un modo, troveremo un modo
Per mantenere la notte fredda
Da eventuali rotture sulle pareti
Nel lato selvaggio
La fame soddisfa
Stiamo bruciando
Potremmo anche essere amanti sul sole
Potremmo anche essere amanti sul sole
Potremmo anche essere amanti sul sole
Non lo sapremo mai, non lo sapremo mai
Che cosa c'è dietro al Nord
Ma ho avuto una sensazione
Una sensazione che stiamo morendo
Chiudi gli occhi e trattieni il respiro
Perché ci si sente bene
Lo terremo in movimento finché non lo faremo sull'altro lato
E godiamoci la corsa
Stiamo bruciando
Potremmo anche essere amanti sul sole
Potremmo anche essere amanti sul sole
Potremmo anche essere amanti sul sole
Accendiamolo, accendiamolo
Fino a quando i nostri cuori prenderanno fuoco
E così il mondo, una luce che brucia
Non hanno mai brillato così forte