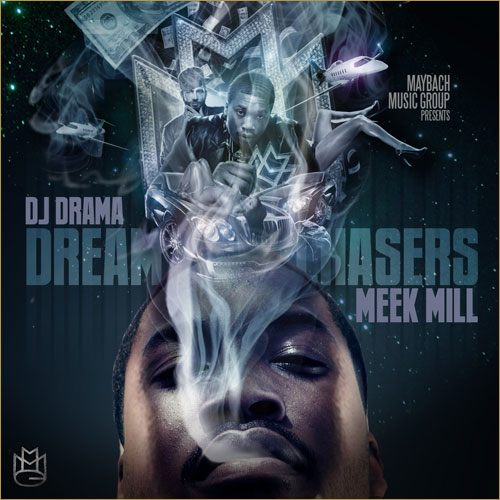 Il nuovo video di Meek Mill è stato messo on line da qualche giorno ma le informazioni che riguardano il suo nuovo album sono ancora molto scarse. Il suo nuovo singolo, Don't panic, di cui vedrete il video dopo il salto, è tratto dal suo nuovo mix tape, Dreamchaser, un disco che vede la collaborazione di molti cantanti rapper, tra cui Rick Ross e Yo Gotti.
Don't panic – Video
Don't panic – Testo
Chorus
Can't Panic, Don't Panic
They knocking, Don't Panic
It's them people in penny-loafers
They searching people and searching sofas
Oh Lord! Can't Panic, Don't Panic
No time to plot it, No time to plan it
100 Keys up in the Attic! 100 Keys up in the Attic!
Oh Lord!
30 racks of Diesel, watching for them people
2 Birds in the Kitchen; 1 Brick, 1 Desert Eagle
If the Cops rush in, better flush it
Better pray to God they don't see you
Cause them F-E-D-S Boys want to L-I-F-and E you
So don't panic, don't panic, if they grab you
Don't panic, nigga dropping statements on the
Whole hood, they grabbed the nigga and he ramming
Got them young boys like 30 Years still walking
And he standing, bet that would've been one of my
Niggas, bet you homie would've died quicker, my
Lawyer cost 100 Thou', nigga, rats telling with
No remorse, shoot at us, no reports, we shoot at them
They going to Court, fuck niggas want to go to War
Just make sure you could stand it, and when them boys
Start rushing, nigga, just don't panic
Chorus
Pussy niggas panic, I could see they panties
Rain, Snow, or Sleet, I'm in these Streets and
It's so organic, WB but no Atlantic, play with
Me and I bet I'll handle it, 30 G's, 20 Shows
A Month, that's too much to count and too much
To manage, (hey) I'm on my dope boy shit, yeah
My car's White, motherfuck a hater, I done lived
A Hard Life, I'm swanging out my building, trying
To raise my children, top got no ceiling, Yo Gotti
Nigga Meek Milly, counted my first Million, that's
When my whole Life changed, I Pledge Allegiance to
Streets that I'll never Panic if them feds came
That's on everything, Money-Bag in the bread game, my
Partner and them is my partner and them, murder one or
Get gwop with them, I'm yo gotti!
Don't panic – Traduzione
Non posso andare in panico, non devo andare in panico
Stanno bussando, non andare in panico
Sono quegli aguzzini
Cecano persone, cercano sofà
Oh Signore! Non posso andare in panico, non devo andare in panico
Non ho tempo per pensare a una storia, per organizzarmi
C'è tensione dell'Attico! (x 2)
Oh Signore!
30 Diesel a cremagliera, tenetele d'occhio ragazzi
Due uccelli in cucina; un mattone, un'aquila del deserto
Se arrivano i poliziotti, meglio svignarsela
Meglio pregare che non ti vedano
Perché gli agenti federali vogliono prenderti di forza
Quindi non andare in panico se ti prendono
Non andare in panico, gli altri rilasciano dichiarazioni
Loro l'hanno preso, lui era inseguito
Hanno preso dei giovani 30enni, camminano ancora
E lui rimane in piedi, scommetto che avrebbe voluto
Essere uno dei miei, scommetto che morirai presto
Il mio avvocato costa 100, uomo, i ratti hanno parlato
Senza rimorso, ci ha sparato, noi abbiamo sparato loro
Andranno davanti alla Corte, fott*** vogliono andare in guerra,
Volevo essere sicuro che saresti rimasto in piedi,
Inizia a correre, non andare in panico
Ritornello
Le ragazze vanno in panico, riesco a vedere le loro mutande
Anche se nevica o piove io sono in queste strade
WB, non Atlantico, gioca con me
Scommetto che si riuscirò 30 G's, 20 show
Al mese, troppo da contare
Troppo da organizzare, sono con lo spacciatore, yeah
La mia auto è bianca, ho vissuto
Una vita dura, dondolo fuori dall'edificio, provo
A crescere i miei figli, il top non ha un soffitto, Yo Gotti
Nigga Meek Milly, contavo il mio primo milione,
Ecco com'è cambiata la mia vita, prometto fedeltà
Alle strade, non andrò in panico neanche quando arriveranno i federali
Il mio partner e loro, il mio partner e loro, ucciderne uno per uno , I'm YO GOTTI!