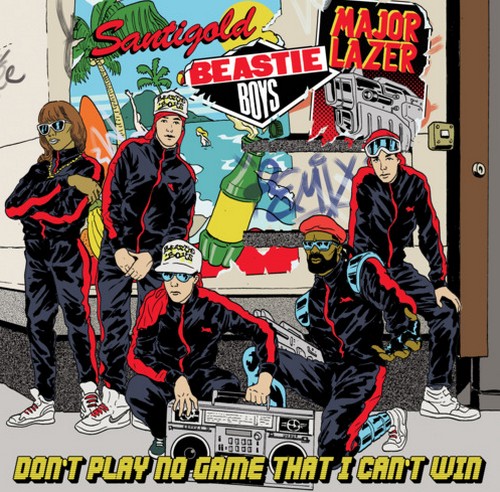 Don't play no game that i can't win è il nuovo singolo estratto da Hot Sauce Committee Part 2, ottavo album dei Beastie Boys. Il video del brano, che potete vedere dopo il salto, è stato scritto da Adam Yauch (no dei componenti del trio) ed è stato diretto da Spike Jonze, autore nel 1994, di altri due video dei Beastie Boys: Sabotage e Sure Shot. Da notare anche la preziosa collaborazione della cantautrice statunitense SantiGold.
Il video riprende le immagini di un vero e proprio film d'azione, con colpi di scena e immagini molto crude; se non fosse per la presenza di bambolotti che riproducono le fattezze dei tre Beasties. Esistono due versioni del video: una lunga, di 12 minuti 'Epic', e una breve di 4 minuti 'Episodic' per la Tv. Tra i volti noti presenti nel videoclip anche quello di Orlando Bloom.
http://www.youtube.com/watch?v=vhH9Y6q3Hhk&feature=player_embedded
Don't Play No Game That I Can't Win – Testo
It's out here gotta say it so
I got you right where I want
honestly is for your best
when end up you attack
you won time you were .. when the .. was cold
and now funny .. gets old
you can hide you can run but it will catch up
I see me i'll show you how
you wanna .. back when you had your shot
wanna save me every time when you ..
can't stop now no compromise
. fill out of lies ..fly like a bird when I am …
wanna .. and twist to climb your …
I know the danger over here
who's been .. again
can tell them off from where you've been
don't play a game that I can't win
you're caught now but it's in your …
and buy now all your .. all your senses
.. count on that I tell you what we know always holds us back
now your money and your .. don't stop
I got in your heart and I .. you off
I know you .. in .. done it again
.. you try to play to win but now you lose
.. n the attic .. such erotic .. automatic systematic
.. what you want now
I know I am a danger women who has been .. again
you can tell … don't play a game that I can't win
danger danger danger
don't play a game that I can't win
don't play a game that I can't win.