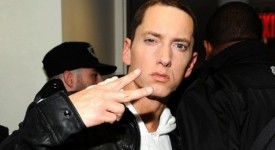 Non si è ancora ben capito se Eminem ha definitivamente smesso di fare rap. L'annuncio c'è stato tempo fa, ma nel frattempo l'artista di Detroit continua a rilasciare singoli, tanto da lasciare pensare che sia in fase avanzata di lavorazione il tanto atteso ottavo disco di Eminem.
Lui, alla presentazione di Survival, il nuovo singolo scritto per la colonna sonora del videogioco Call of Duty: Ghosts, non ha dichiarato nulla, se non che il video della canzone potrebbe uscire a breve.
Testo – Survival
This is survival of the fittest
This is do or die
This is the winner takes it all
So take it all
Wasn't ready to being a millionaire, I was ill-prepared
I was prepared to be ill though, the skill was there
From the beginning, it wasn't 'bout the ends
It was 'bout busting raps and standing for something, fuck an acronym
Cut the fucking act like you're happy, I'm fucking back again
With another anthem, why stop when it doesn't have to end?
It ain't over 'til I say it's over – enough when I say enough
Throw me to them wolves and close the gate up
I'm afraid of what'll happen to them wolves
When the thought of being thrown into an alligator pit, I salivated it
Weight is up, hands up like it's 12 noon, nah, homie
Hold them bitches straight up, up wave 'em 'til you dislocate a rotator cuff
Came up rough, came to ruffle feathers, nah, egos
I ain't deflate enough, last chance to make this whole stadium erupt
This is survival of the fittest
This is do or die
This is the winner takes it all
So take it all
I can see the finish line with each line that I finish
I'm so close to my goals I can almost pole vault over the goal post
And if I don't got enough in the tank, maybe I can just siphon enough
To fill up this last can, man will I survive in this climate or what?
They said I was washed up, and got a blood bath
I'm not a rapper, I'm an adapter, I can adjust
Plus I can just walk up to a mic and just bust
So floor's open if you'd like to discuss
Top 5 in this mothafucka and if I don't make the cut
What, like I give a fuck, I'mma light this bitch up like I'm driving a truck
To the side of a pump, 0 to 60 hop in and gun it
Like G-Unit without the hyphen, I'm hyping 'em up
And if there should ever come a time where my life's in a rut
And I look like I might just give up, eh you might've mistook
Me for bowing out I ain't taking a bow, I'm stabbing myself
With a fucking knife in the gut, while I'm wiping my butt!
Cause I just shitted on the mic, and like getting cut
I get excited at the sight of my blood, you're in a fight with a nut
Cause I'mma fight 'til I die or win
Biting the dust it'll just make me angrier, wait
Let me remind you of what got me this far, picture me quitting
Now draw a circle around it and put a line through it, slut
It's survival of what?
This is survival of the fittest
This is do or die
This is the winner takes it all
So take it all
So get your ideas, stack your ammo
But don't come unless you come to battle, I'm mad now jump in the saddle
This is it, it's what you eat, sleep, piss and shit
Lift, breathe, your whole existence just consists of this
Refuse to quit, fuse is lit, can't diffuse the wick
I don't do this music shit, I lose my shit
Ain't got shit to lose, it's the moment of truth
It's all I know how to do, as soon as I get thrown in the booth, I spit
But my respect is overdue, I'm showing you the flow no one do
Cause I don't own no diploma for school, I quit!
So there's nothing for me to fall back on, I know no other trades
So you'd better trade your fucking mics in for some tool-box-es
Cause you'll never take my pride from me
It'll have to be pried from me, so pull out your pliers and your screwdri-vers
But I want you to doubt me, I don't want you to buh-lieve
Cause this is something that I must use to suc-ceed
And if you don't like me then fuck you!
Self es-teem must be fucking shooting through-the-roof cause trust me
My skin is too thick and bul-let proof to touch me
I can see why the fuck I disgust you
I must be a-llergic to failure cause everytime I come close to it
I just sneeze, I just go atchoo then achieve!
Traduzione
Questa è sopravvivenza delle migliori
Questo è vivere o morire
Questo è che il vincitore prende tutto
Allora prendi tutto
Non ero pronto a fare il milionario, ero malpreparato
Ero pronto ad essere malato però, la capacità era lì
Sin dall'inizio, non si trattava della fine
Era tutto sul rap e lottare per qualcosa, fanc*** gli acronimi
Piantala con le stronz*** come se fossi felice, sono tornato, ca***
Con un altro inno, perché smetterla se non deve finire?
Non è finita finché non è finita – abbastanza, abbiamo detto abbastanza
Lanciami ai lupi e chiudi il cancello
Ho paura di ciò che potrà succedere a quei lupi
Quando pensavo di venir lanciato dentro una vasca di alligatori, sbavavo
Il peso è giusto, le mani in alto come se fosse mezzogiorno, no, papino
Tieniti strette le putt*nelle, muovile finché non ti si disloca la spalla
Vieni, vieni alle piume, no, ego
Non sono ridimensionato abbastanza, l'ultima occasione di far eruttare lo stadio
Questa è sopravvivenza delle migliori
Questo è vivere o morire
Questo è che il vincitore prende tutto
Allora prendi tutto
Vedo la linea del traguardo per ogni traguardo che finisco
Sono vicino ai miei obiettivi che quasi posso fare il salto con l'asta oltre l'obiettivo
Se non ottengo abbastanza nel tank, forse posso scivolare via
Per riempire questo ultimo contenitore, sopravviverò a questo clima o no?
Hanno detto che ero finito, e ho fatto un bagno di sangue
Non sono un rapper, sono uno che si adatta, mi posso adattare
In più posso avvicinarmi a un microfono e scoppiare
La pista è aperta se vuoi discutere
Top 5 in questo ca**o di cosa e se non finisco
Che?, come se mi fregasse un ca***, illuminerò come se stessi guidando un camion
Sul lato di un pump, da 0 a 120 e scoppialo
Come la G-Unit senza il trattino, li tratteggio io
E se ci dovesse essere n momento in cui la mia vita è una routine
E sembra che io debba rinunciare, ehh ti sei sbagliato
Io non mi inchino a nessuno, mi accoltello da solo
Con un ca*** di coltello mentre mi pulisco il cu**
Perché ho smerd*** il microfono e come se finisse
Mi emoziono quando vedo il mio sangue, stai litigando con un caz****
Lotterò finché non muoio o vinco
Mordere la polvere mi fa solo incaz**** di più, aspetta
Lascia che ti ricordi come sono arrivato qui, immaginati che lasci stare
Ora disegnaci un cerchio intorno e fai una riga attraverso
Non è sopravvivenza?
Questa è sopravvivenza delle migliori
Questo è vivere o morire
Questo è che il vincitore prende tutto
Allora prendi tutto
Allora fatti le tue idee, organizzati
Non venire da me a meno che tu non venga a lottare, sono incaz**** ora salta in sella
Questo è così, è quel che mangi, dormi, pisci e cag**
Sollevi, respiri, la tua intera esistenza consiste in questo
Rifiuto di smettere, fondere è brillare, non posso diffondere lo stoppino
Non faccio musica di m****, perdo
Non ho un ca*** da perdere, è il momento della verità
E' tutto ciò che so fare, appena entro in pista, sputo
Il mio rispetto è sovrastimato, ti mostro il flow che nessuno ha
Non ho diplomi a scuola, ho smesso
Non c'è niente a cui tornare, no, ho altri traffici
E' meglio che vendi i tuoi microfoni in scatole da lavoro
Non toglierai mai l'onore da me
Dovrai lavorare per me, tira fuori i cacciavite
Voglio che dubiti di me, non voglio che crrr-edi
Perché se è qualcosa che devo usare per fare succ-esso
Se non ti piaccio allora vaffan****
L'auto-stima deve essere come sparare dal tetto perché credimi
La mia pelle è troppo sottile resistente alle pallottole per toccarmi
Ora vedo perché ti faccio schifo
Devo essere allergico ai fallimenti perché ogni volta che ci vado vicino
Starnutisco, etchoooo e poi vinco.