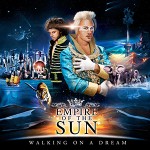 Arrivano dal nuovo continente gli Empire Of The Sun, il gruppo è composto da Luke Steele degli Sleepy Jackson e Nick Littlemore dei Pnau.
Nelle radio sta avendo un buon successo il loro primo singolo "Walking On A Dream" arrivato in Italia a 6 mesi dal loro successo australiano.

Il brano recupera il sound anni '80 e ciò è evidente anche nel loro video che trovate subito dopo il salto.

Godetevi la canzone e diteci cosa ne pensate.
Buona visione!!
Video
Testo
Walking On A Dream
How can I explain
Talking to myself
Will I see again
We are always running for the thrill of it thrill of it
Always pushing up the hill searching for the thrill of it
On and on and on we are calling out and out again
Never looking down I'm just in awe of what's in front of me
Is it real now
When two people become one
I can feel it
When two people become one
Thought I'd never see
The love you found in me
Now it's changing all the time
Living in a rhythm where the minutes working overtime
We are always running for the thrill of it thrill of it
Always pushing up the hill searching for the thrill of it
On and on and on we are calling out and out again
Never looking down I'm just in awe of what's in front of me
Is it real now
When two people become one
I can feel it
When two people become one
Catch me I'm falling down
Catch me I'm falling down
Don't stop just keep going on
I'm your shoulder lean upon
So come on deliver from inside
All we got is tonight that is right till first light
Is it real now
When two people become one
can feel it
When two people become one
Traduzione
Walking on a Dream
Come posso spiegare
parlando a me stesso
potrò vedere di nuovo
Siamo sempre alla ricerca del suo brivido, del suo brivido
sempre spingendo verso l'alto la collina alla ricerca del suo brivido
su e su e su, stiamo gridando ancora
non guardiamo mai giù, sono solo in soggezione di ciò che c'è davanti a me
E' reale ora
quando due persone diventano una sola
riesco a sentirlo
quando due persone diventano una sola
Pensavo che non avrei mai visto
l'amore che hai trovato in me
ora sta cambiando durante questo tempo
si vive in un ritmo dove i minuti sono lavoro straordinario
Siamo sempre alla ricerca del suo brivido, del suo brivido
sempre spingendo verso l'alto la collina alla ricerca del suo brivido
su e su e su, stiamo gridando ancora
non guardiamo mai giù, sono solo in soggezione di ciò che c'è davanti a me
E' reale ora
quando due persone diventano una sola
riesco a sentirlo
quando due persone diventano una sola
Afferrami, sto cadendo
afferrami, sto cadendo
Non fermarti, continua ad andare
ti appoggierò
perciò vieni, consegna dall'interno
tutto ciò che abbiamo è che questa nottata continuerà ad essere tale fino alle prime luci (dell'alba)
E' reale ora
quando due persone diventano una sola
riesco a sentirlo
quando due persone diventano una sola