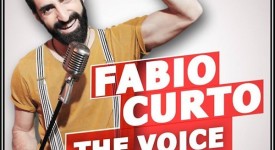 Tu Mi Fai Impazzire è il primo singolo di Fabio Curto, vincitore all'ultima edizione di The Voice of Italy.
Il pezzo è on air da venerdì 31 luglio 2015, mentre il suo primo album è atteso per il prossimo 28 agosto su etichetta Universal Music.
Di seguito il testo di Tu Mi Fai Impazzire.
Testo – Tu Mi Fai Impazzire
Tu mi fa impazzir
ti lascio e poi ritorni senza gravi pentimenti
dormi accanto a me
tu mi fai impazzir
di notte fai progetti, parli troppo a voce alta
ed io non so chi sei
cosa mi stringe più a te
se è la tua bocca o il deserto che mi lasci dentro
quando te ne vai
quando te ne vai
Tu mi fai impazzir (tu mi fai impazzir)
mi lasci e ti diverti e io non riesco più a guardari
muoio accanto a te
Tu mi fai impazzir (tu mi fai impazzir)
di notte guardo i gatti misteriosi sopra i tetti
ed io non so chi sei
cosa mi stringe più a te
se è la tua bocca o il deserto che mi lasci dentro
quando te ne vai
cosa mi stringe più a te
se è la tua bocca o il deserto che mi lasci dentro
quando te ne vai
quando te ne vai
Ma si tu mi fai impazzir (tu mi fai impazzir)
ti rivesti in un attimo
tu mi fai impazzir (tu mi fai impazzir)
prendi e te ne vai
(si tu mi fai impazzir)
tu mi fai impazzir (tu mi fai impazzir)
quando te ne vai
quando te ne vai
quando te ne vai