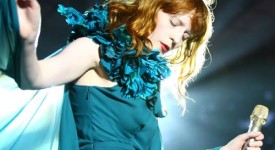 What Kind of Man è il nuovo singolo dei Florence and The Machine, la band inglese che sta spopolando nelle classifiche di mezzo mondo.
Questo pezzo fa da apripista al loro nuovo album dal titolo How Big How Blue How Beautiful, uscito nel giugno 2015.
Il disco è prodotto da Markus Dravs, Paul Epworth, Kid Harpoon e John Hill. Di seguito il testo e la traduzione di What Kind of Man.
Testo – What Kind of Man
I was on a heavy tip
Tryna cross a canyon with a broken limb
You were on the other side
Like always, wondering what to do with life
I already had a sip
So I'd reasoned I was drunk enough to deal with it
You were on the other side
Like always, you could never make your mind
And with one kiss
You inspired a fire of devotion
That lasted 20 years
What kind of man loves like this
To let me dangle at a cruel angle
Oh my feet don't touch the floor
Sometimes you're half in and then you're half out
But never close the door
What kind of man loves like this
What kind of man
What kind of man loves like this
What kind of man
You're a holy fool all coloured blue
Red feet upon the floor
You do such damage, how do you manage?
Tryna crawl in back for more
And with one kiss
You inspired a fire of devotion
That lasted 20 years
What kind of man loves like this
What kind of man loves like this
What kind of man
What kind of man loves like this
What kind of man
But I can't beat you
Cause I'm still with you
Oh mercy I implore
How do you do it
I think I'm through it
Then I'm back against the wall
What kind of man loves like this
What kind of man
What kind of man loves like this
What kind of man
What kind of man loves like this
What kind of man
What kind of man loves like this
What kind of man
Traduzione
Ero in un momento triste
Cercando di attraversare un canyon con un braccio rotto
Tu eri sul lato opposto
Come sempre, chiedendo cosa fare della vita
Io avevo già bevuto un sorso
Così avevo ragionato, ero abbastanza ubriaco per affrontarla
Eri sul lato opposto
Come sempre, non avresti mai potuto deciderti
E con un bacio
Hai ispirato un fuoco di devozione
Che durava 20 anni
Che tipo di uomo ama così
Per permettermi di pendere da un angolo crudele
Oh, i miei piedi non toccano il pavimento
A volte sei a metà dentro e poi a metà fuori
Ma non chiudere mai la porta
Che tipo di uomo ama così
Che tipo di uomo
Che tipo di uomo ama così
Che tipo di uomo
Tu sei un pazzo santo tutto colorato di blu
Piedi rossi sul pavimento
Tu fai danni, come fai a gestirlo?
Cercando di indietreggiare di più
E con un bacio
Hai ispirato un fuoco di devozione
Che durava 20 anni
Che tipo di uomo ama così
Che tipo di uomo ama così
Che tipo di uomo
Che tipo di uomo ama così
Che tipo di uomo
Ma non posso batterti
Perché sono ancora presa da te
Oh imploro pietà
Come lo fai
Penso di esserci dentro
Poi sono tornata contro il muro
Che tipo di uomo ama così
Che tipo di uomo
Che tipo di uomo ama così
Che tipo di uomo
Che tipo di uomo ama così
Che tipo di uomo
Che tipo di uomo ama così
Che tipo di uomo