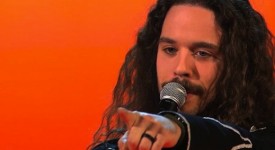 È stato il finalista di The Voice of Italy che ha dovuto vedersela con la fortissima Suor Cristina, stiamo parlando di Giacomo Voli. Ed eccolo qui con il suo primo inedito 2014 già disponibile su iTunes dal titolo Rimedio.
Si tratta di un brano molto rock con qualche venatura grunge. Il brano è stato scritto proprio da Piero Pelù, colui che ha fatto da coach durante il talent show a Giacomo.
Ecco di seguito il testo di Rimedio.
Testo – Rimedio
Se c'è un problema
C'è la soluzione
Se c'è un rimedio
Tu sei il suo motore
Accendi tutto
Prova ad andare
Sei venuto
Questa notte puoi cambiare
Tieni i fari accesi
I riflessi tesi
La tua voce sale
Sale
Voglio un rimedio
A questo assedio
Che sia il mio premio
Che sia il mio premio
Se c'è un problema
C'è sempre soluzione
Se c'è un rimedio
Io sono il tuo dottore
Prendi tutto
Non andare
Qualche cosa
Con la voce puoi cambiare
Ricettori accesi
Tutti i nervi tesi
La mia voce sale
Sale
Voglio un rimedio
A questo assedio
Che sia il mio premio
Che sia il mio premio
Fuori dal coro
E' il mio lavoro
Fuori dal coro
In bilico sugli angoli
Io dò
Tempo al tempo
Voglio un rimedio
A questo assedio
Che sia il mio premio
Che sia il mio premio
Voglio un rimedio
Che sia il mio premio
Che sia il mio premio