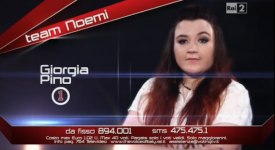 Giorgia Pino è stata la finalista per il Team Noemi di The Voice of Italy. Durante la serata ha presentato questo inedito dal titolo Se davvero vuoi.
La canzone è stata scritta per Noemi da Cristiano Franco, Francesco Sighieri e Marco Ciappelli; Noemi ha rivelato di averla tenuta in un cassetto e di aver pensato che fosse perfetta per Giorgia.
Di seguito il testo di Se davvero vuoi.
Testo – Se davvero vuoi
Per me non ci sono alternative
hai già chiare le tue prospettive
come stiamo bene da soli
al sicuro in queste esistenze
vedrai tutto il mondo che ti circonda
affronta i dubbi che hai
se davvero vuoi
un futuro per te
vedrai, cadere il desiderio là in fondo
tu buttati se ce la fai
se davvero vuoi
il sorriso …
per te, che il coraggio non ti aspetta
basta un sentimento più intenso
per cadere a terra inerme
vedrai tutto il mondo che ti circonda
affronta i dubbi che hai
se davvero vuoi
un futuro per te
vedrai, cadere il desiderio là in fondo
tu buttati se ce la fai
se davvero vuoi
quell'amore per te
eh eh
siamo raggi dell'universo
soli e nudi su questa terra
ma un gran potere che ci sostiene
quanto riesce a dare l'amore
vedrai tutto il mondo che ti circonda
affronta i dubbi che hai
se davvero vuoi
quell'amore per te
basta un giorno di pioggia intensa
in un giorno di questo inverno