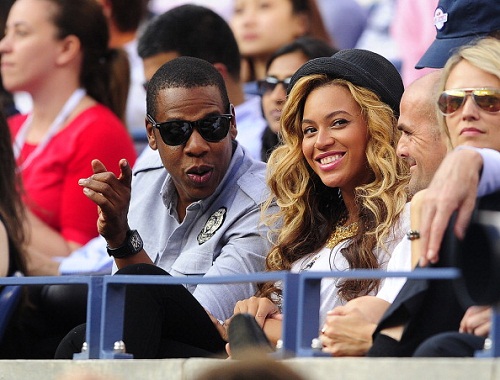 Dopo aver sentito molti singoli sulla maternità cantati da Beyoncé, ecco finalmente un nuovo pezzo, questa volta cantato dal rapper Jay-Z, presto papà della piccola Glory. Il dolce nome della loro bambina è anche il nome del singolo e il pensiero che il cantante ha dedicato alla piccola è davvero emozionante.
Glory – Audio
Glory – Testo
The most amazing feeling I feel
Words can't describe the feeling, for real
Maybe I paint the sky blue
My greatest creation was you: Glory
False alarms and false starts
All made better by the sound of your heart
All the pain of the last time
I prayed so hard it was the last time
Your mama said that you danced for her
Did you wiggle your hands for her?
Glory! Glory! Glory! Sorry..
Everything that I prayed for
God's gift, I wish I would've prayed more
God makes no mistakes, I made a few
Rough sledding here and there, but I made it through
I wreak havoc on the world, get ready for part 2
A younger, smarter faster me
So a pinch of Hov, a whole glass of Bé
Hook
Your Grandpop died on liquor failure
Then he died on liver failure
Deep down he was a good man
God damn, I can't deliver failure
Bad ass lil' Hov
2 years old, shopping on Savile Row
Wicked ass lil b
Hard not to spoil you rotten, looking like little me
The most beautifulest thing in this world
Daddy's little girl
You don't yet know what swag is
But you was made in Paris
And mama woke up the next day and
Shot her album package
Last time the miscarriage was so tragic
We was afraid you disappeared
But nah, baby you magic
Today you have it, shit happens
Make sure the plane you on is bigger
Than your carry-on baggage
Everybody go through stuff
Life is a gift love, open it up
You're a child of destiny
You're a child of my destiny
You're my child with the child from Destiny's Child
That's a hell of a recipe
Glory! Glory! Glory! Sorry..
Hook
Glory – Traduzione
La più grande emozione che ho provato
Le parole non possono descriverla, davvero
Forse ho dipinto il cielo di blu
La mia creazione più grande sei stata tu: Glory
Falsi allarmi, false partenze
Tutto era migliore nel sentire il battito del tuo cuore
Tutto il dolore dell'ultima volta
Ho pregato così tanto l'ultima volta
Tua mamma ha detto che ballavi per lei
Hai mosso le mani per lei?
Glory! Glory! Glory! Scusa..
Tutto ciò per cui ho pregato
Il dono di Dio, vorrei aver pregato di più
Dio non fa errori, io ne ho fatti un paio
Qualche sbaglio qui e là, ma ce l'ho fatta
Ho distrutto il mondo ma sono pronto per la seconda parte
Uno più giovane di me
Ho preso un pizzico di Hov, un bicchiere di Bé
Ritornello
Il tuo bisnonno è morto, ha falllito contro l'alcol
Poi è stato il suo fegato a fallire
In fondo era un brav'uomo
Un buon uomo, non riesco ad accettare la sconfitta
Bad ass lil' Hov
2 anni, shopping a Savile Row
Sarà difficile non viziarti, sembri una piccola me
La cosa più bella del mondo
La piccola di papà
Sei stata concepita a Parigi
E la mamma si è alzata il giorno dopo
L'ultima volta era stata così tragica
Avevamo paura tu fossi sparita
Ma no, baby sei magica
Oggi sei pronta, le str***** capitano
Siamo sicuri che il tuo aereo ora sarà più grande
Del tuo bagaglio
Tutti devono passarci
L'amore è una cosa grande
Sei la bambina del destino
Del mio destino
Sei la bambina delle Destiny's Child
Che ricetta tremenda
Glory! Glory! Glory! Scusa…
Ritornello
Photo Credits | Getty Images