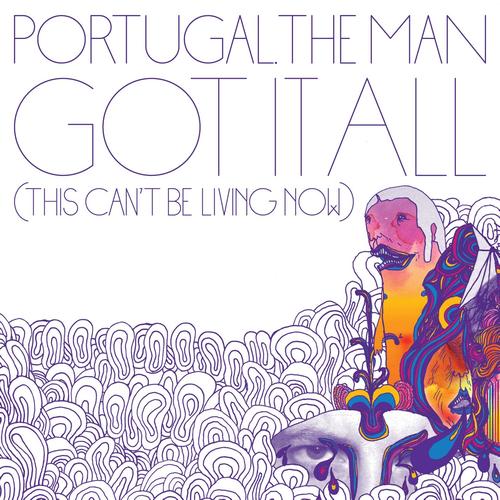 Portugal the man è un gruppo rock originario dell'Alaska che in ben sette anni di unione ha prodotto sette album, dischi di grande successo. L'ultimo, In the mountain in the cloud, è il disco del 2011 dal quale è stato tratto il singolo che vi presentiamo dopo il salto, Got it all.
Got it all – Video
Got it all – Testo
This can't be living now, if so then show me how
We'll shake, shake, shake the night away
We shook, shook, shook, the night away.
Want a love like this night is young
But will I die as I become one…
At the bottom of it all
We got it all
We got it all
We got it all
'Til the revolution comes
We got it all
We got it all
We got it all
'Til the revolution comes
I want a world like my teacher told me it would be
I want a love like my parents told me it would be
When I was born I defied your times
But they were nothing, nothing like mine
We'll shake, shake, shake the night away
We shook, shook, shook the night away
Feels like school again
Alright man…
We'll find that at the bottom of it all
We got it all
We got it all
We got it all
'Til the revolution comes
We got it all
We got it all
We got it all
'Til the revolution comes
I want a world like my teacher told me it would be
I want a love like my parents told me it would be
We shake, shake, shake the night away
We shook, shook, shook the night away
This can't be living now, if so then show me how
And we'll find that
At the bottom of it all
We got it all
We got it all
We got it all
'Til the revolution comes
We got it all
We got it all
We got it all
'Til the revolution comes
I want a world like my teacher told me it would be
I want a love like my parents told me it would be
Ahhh… Ahhh… Ahhh… Ahhh…
Got it all – Traduzione
Questa non è vita, se così fosse mostratemelo
Scrolleremo, scrolleremo, scrolleremo via la notte
Abbiamo scosso, scosso, scosso via la notte
Voglio un amore giovane come questa notte
Quando morirò diventerò uno
Al fondo di ogni cosa
Abbiamo ogni cosa (x 3)
Prima che arrivi la rivoluzione
Abbiamo ogni cosa (x 3)
Prima che arrivi la rivoluzione
Voglio il mondo che mi aveva promesso la mia maestra (x 2)
Quando sono nato ho resistito ai tempi tempi
Non erano niente, niente in confronto ai miei
Scrolleremo via la notte
Abbiamo scrollato, scrollato via la notte
Sembra di essere ancora a scuola
Lo ritroveremo alla fine di tutto
Abbiamo ogni cosa (x 3)
Prima che arrivi la rivoluzione
Abbiamo ogni cosa (x 3)
Prima che arrivi la rivoluzione
Abbiamo ogni cosa
Prima che arrivi la rivoluzione
Voglio il mondo che mi aveva promesso la mia maestra (x 2)
Scrolleremo via la notte
Abbiamo scrollato, scrollato via la notte
Questa non è vita, se così fosse motratemelo
E lo troveremo
Alla fine di ogni cosa
Abbiamo ogni cosa (x 3)
Prima che arrivi la rivoluzione
Abbiamo ogni cosa (x 3)
Prima che arrivi la rivoluzione
Abbiamo ogni cosa
Prima che arrivi la rivoluzione
Voglio il mondo che mi aveva promesso la mia maestra (x 2)
Ahhh… Ahhh… Ahhh… Ahhh…