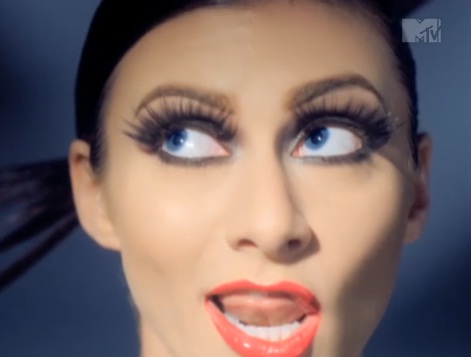 Tratto dall'album Hello, esce il video ufficiale dell'ultimo singolo del duo Karmin, I told you so, un singolo divertente e orecchiabile improntato sul pop rap. Il singolo è prodotto da Jon Jon Traxx.
I told you so – Video
I told you so – Testo
Aye, aye, aye
Is it time, green light
Egotistic, battle cry
I was right, you was wrong
Called you out, finished strong
Whiskey sour lemonade, fences at my barricade
I had heart, you had spades
I could see the color in your faces fade
That's how it is, ain't no riddle
Crunchy on the edge but soft in the middle
I got a lot, you got a little
I'ma play both drums, you play the fiddle
Play it real slow, lean on the bow
Everybody's sad when they miss a free throw
Bass to control, I'm on a roll
Right all along and I knew it in my soul.
I told you so
Don't want to brag but you already know (Oh)
I told you so
Don't want to brag but you already know
You already know
I told you, I told you, I told you so oh
I told you, I told you, I told you so oh
F-f-f-feels so good, doesn't it?
Winnin' while they flubbin' it
I was right, you was wrong
Figured I would write it in a hip hop song
Was it so hard to believe?
I can make it, being me?
Drank too much Ouzo
My gosh, you know
People say a lot of things, make you feel real small
Push them out the way, iced latte, tall
I don't really care, I'm not really there
Caffeinated up to my eyes, I swear
I'm on the top, you on the flop
Going so long and I'm never gonna stop
Bass to control, I'm on a roll
Right all along and I knew it in my soul
I told you so
Don't want to brag but you already know (Oh)
I told you so
Don't want to brag but you already know
You already know
I told you, I told you, I told you so oh
I told you, I told you, I told you so oh
Look at me now, fifteen rounds
Bottle in my hand, pourin' it on the ground
Next time you wanna talk trash, I'ma put it on blast
You can get it if you ask for it
Put it in the mini figure for the fat ladies hangin' out
Shatter every glass house. Oops. Ni hao
Meanwhile, I smile
Then I go, animal style
I'm rackin' up another million,
Making me another killin', superwoman,
Earnin' top dollar bill,
And you must have a lot of feelings
Tell me what you really think about it
Kiddin', I don't even care
Nobody listens to a fool,
Go put a hater be about another
Take it please,
Got me on my knees
Talk to you later, then I'm gonna
Whoop, there goes!
Right all along and I knew it in my soul
I told you so
Don't want to brag but you already know (Oh)
I told you so
Don't want to brag but you already know
You already know
(x 2)
I told you, I told you, I told you so oh
I told you, I told you, I told you so oh
I told you so – Traduzione
Aye, aye, aye
E' ora, luce verde
Battaglia di lacrime
Io avevo ragione, tu torto
Ti ho chiamato fuori, il finale è stato forte
Wiskey e limonata, cancelli sulla mia barricata
Io avevo cuori, tu spade
Vedevo il tuo volto perdere colore
Ecco com'è andata, nessun tranello
Dura fuori ma morbida dentro
Io ho molto, tu poco
Suonerò tamburi, tu il violino
Suonalo piano, chinati sull'arco
Tutti sono tristi quando perdono un'occasione gratuita
Lo sapevo nella mia anima
Te l'ho detto
Non voglio vantarmi ma lo sai già (Oh) (x 2)
Lo sai già
Te l'ho detto (x 6)
Fa così bene, non è così?
Vinco mentre loro lavorano
Io avevo ragione, tu torto
Vorrei scriverlo in una canzone hip hop
Era così difficile crederlo?
POsso farcela, e tu?
Ho bevuto troppo Ouzo
Oddio, lo sai
La gente dice molte cose, ti fa sentire piccola
Mandali via
A me non interessa, io non ero lì
Caffeina fino agli occhi, lo giuro
Io sono al top, tu sei un flop
Tutti sono tristi quando perdono un'occasione gratuita
Lo sapevo nella mia anima
Te l'ho detto
Non voglio vantarmi ma lo sai già (Oh) (x 2)
Lo sai già
Te l'ho detto (x 6)
Guardami, quindici round
La bottiglia in mano, la verso per terra
La prossima volta che vorrai dire stupidaggini
Vi farò esplodere
Rompo ogni vetro nella casa, ops.
Intanto sorrido
Poi vado io, stile animale
Faccio un altro milione
Un altro cadavere, wonder woman
Guadagno molti soldi
Devi avere molti sentimenti
Dimmi cosa ne pensi davvero
Scherzo, non mi interessa
Nessuno ascolta un folle
Prendilo per favore
Mi hai messa in ginocchio
Parlo con te dopo
Whoop, eccolo!
Lo sapevo fino in fondo all'anima
Te l'ho detto
Non voglio vantarmi ma lo sai già (Oh) (x 2)
Lo sai già
Te l'ho detto (x 6)