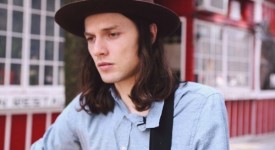 Hold back the river è il nuovo singolo di James Bay, che anticipa il suo primo LP dal titolo Chaos and the Clam. Questo album uscirà il 23 marzo 2015.
Il cantautore 24enne ha anche vinto, a dicembre, il Critics' Choice Award.
In passato James Bay ha pubblicato tre EP, The Dark of The Morning (2013), Let It Go (2014) e Hold Back the River.
Di seguito il testo e la traduzione di Hold back the river.
Testo – Hold back the river
Tried to keep you close to me,
But life got in between
Tried to square not being there
But think that I should have been
Hold back the river, let me look in your eyes
Hold back the river so I
Can stop for a minute and see where you hide
Hold back the river, hold back
Once upon a dear friend life
We rode our bikes into the sky
With love we call against the tide
Those distant days are flashing by
Hold back the river, let me look in your eyes
Hold back the river so I
Can stop for a minute and be at your side
Hold back the river, hold back
Hold back the river, let me look in your eyes
Hold back the river so I
Can stop for a minute and see where you hide
Hold back the river, hold back
Hold oho, oho, oho, oho
Oho, oho, oho, oho
Lonely water, lonely water won't you let us wander
Let us hold each other
Lonely water, lonely water won't you let us wander
Let us hold each other
Hold back the river, let me look in your eyes
Hold back the river so I
Can stop for a minute and be at your side
Hold back the river, hold back
Hold back the river, let me look in your eyes
Hold back the river so I
Can stop for a minute and see where you hide
Hold back the river, hold back
Lonely water, lonely water won't you let us wander
Let us hold each other
Lonely water, lonely water won't you let us wander
Let us hold each other
Traduzione
Ho provato a tenerti vicino a me,
Ma la vita si è messa in mezzo
Ho provato a fare in modo di non essere là
Ma credo che sarei dovuto esserci
Trattieni il fiume, permettimi di guardare nei tuoi occhi
Trattieni il fiume, così io
Posso fermarmi per un secondo e vedere dove ti nascondi
Trattieni il fiume, trattieni
Una volta, con un caro amico di una vita
Abbiamo viaggiato sulle nostre bici fino al cielo
Con amore guidavamo contro la corrente
Quei giorni lontani stanno lampeggiando
Trattieni il fiume, permettimi di guardare nei tuoi occhi
Trattieni il fiume, così io
Posso fermarmi per un secondo ed essere al tuo fianco
Trattieni il fiume, trattieni
Trattieni il fiume, permettimi di guardare nei tuoi occhi
Trattieni il fiume, così io
Posso fermarmi per un secondo e vedere dove ti nascondi
Trattieni il fiume, trattieni
Trattieni, oho, oho, oho, oho
Oho, oho, oho, oho
Acqua solitaria, acqua solitaria, non permetterci di vagare
Lasciaci tenerci a vicenda
Acqua solitaria, acqua solitaria, non permetterci di vagare
Lasciaci tenerci a vicenda
Trattieni il fiume, permettimi di guardare nei tuoi occhi
Trattieni il fiume, così io
Posso fermarmi per un secondo ed essere al tuo fianco
Trattieni il fiume, trattieni
Trattieni il fiume, permettimi di guardare nei tuoi occhi
Trattieni il fiume, così io
Posso fermarmi per un secondo e vedere dove ti nascondi
Trattieni il fiume, trattieni
Acqua solitaria, acqua solitaria, non permetterci di vagare
Lasciaci tenerci a vicenda
Acqua solitaria, acqua solitaria, non permetterci di vagare
Lasciaci tenerci a vicenda