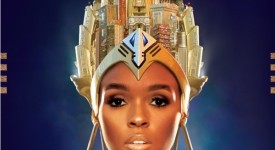 Janelle Monaé è una grande artista.
Nel suo cuore scorre sangue R&B, come anche in quello di Erykah Badu. Le due artiste hanno deciso di collaborare alla realizzazione di un bellissimo brano che fa da apripista all'uscita di The electric lady, secondo album di Janelle Monaé.
Il pezzo si chiama Q.U.E.E.N e le due artiste hanno dichiarato essere la trascrizione in parole e note di una loro conversazione. Vero o meno che sia, quello che è certo è che Q.U.E.E.N. è una canzone davvero bella.
Testo – Q.U.E.E.N.
I cant believe I love the things they say about me
Walk in the room they throwing shade left to right
They be like ooh, she's so fun face
And I just tell em, cut me up, and get down
They call us dirty 'cuz we break all your rules down
And we just came to act a fool, is that all right (Girl, that's alright)
They be like Ooh, let them eat cake
But we eat wings and throw them bones on the ground
Am I a freak for dancing around? (queen)
Am I a freak for getting down? (queen)
I'm coming up, don't cut me down
Yeah I wanna be, wanna be
Is it peculiar that she twerk in the mirror?
And am I weird to dance alone late at night?
And is it true we're all insane?
And I just tell 'em No we ain't" and get down
I heard this life is just a play with no rehearsal
I wonder will this be my final act tonight
And tell me what's the price of fame?
Am I a sinner with my skirt on the ground?
Am I a freak for dancing around?
Am I a freak for getting down?
I'm coming up, don't cut me down
Yeah I wanna be
Hey brother can you save my soul from the devil?
Say is it weird to like the way she wear her tights?
And is it rude to wear my shades?
Am I a freak because I love watching Mary? (Maybe)
Hey sister am I good enough for your heaven?
Say will your God accept me in my black and white?
Will he approve the way I'm made?
Or should I reprogram the programming and get down?
Even if it makes others uncomfortable
I wanna love who I am
Even if it makes other uncomfortable
I will love who I am
Dance 'til the break of dawn
Don't mean a thing, so duh
I can't take it no more
Baby, we in tuxedo groove
Monae and E. Badu
Crazy in the black and white
We got the drums so tight
Baby, here comes the freedom song
Too strong we moving on
Baby there's melody
Show you another way
This joints for fight unknown
Come home and sing your song
But you gotta testify
Because the booty don't lie
No, no, the booty don't lie
Oh no, the booty don't lie
Yeah
Yeah, Let's flip it
I don't think they understand what I'm trying to say
I asked a question like this
"Are we a lost generation of our people?
Add us to equations but they'll never make us equal.
She who writes the movie owns the script and the sequel.
So why ain't the stealing of my rights made illegal?
They keep us underground working hard for the greedy,
But when it's time pay they turn around and call us needy.
My crown too heavy like the Queen Nefertiti
Gimme back my pyramid, I'm trying to free Kansas City.
Mixing masterminds like your name Bernie Grundman.
Well I'm gonna keep leading like a young Harriet Tubman
You can take my wings but I'm still goin' fly
And even when you edit me the booty don't lie
Yeah, keep singing and I'mma keep writing songs
I'm tired of Marvin asking me, "What's Going On?
March to the streets 'cuz I'm willing and I'm able
Categorize me, I defy every label
And while you're selling dope, we're gonna keep selling hope
We rising up now, you gotta deal you gotta cope
Will you be electric sheep?
Electric ladies, will you sleep?
Or will you preach?"
Traduzione
Non riesco a credere a tutte le cose che dicono di me
Mentre entro nella stanza arrivano frecciate da tutte le parti
Fanno tipo "Guarda come posa quella"
E io dico loro di finirla presto e di fare festa invece
Ci danno delle poco di buono perchè infrangiamo tutte le tue regole
E siamo venute solo per fare le sceme, giusto?
(Giusto, ragazza!)
Fanno tipo "Oh, datele della torta da mangiare"
Ma noi mangiamo ali di pollo e buttiamo le ossa per terra
Sono pazza perchè vado in giro e ballo?
Sono pazza perchè faccio festa?
Sto arrivando, non mi fermate
Sì, voglio essere così, voglio essere così
é strano che lei balli davanti allo specchio?
E sono strana a ballare da sola a notte fonda?
Ed è vero che siamo tutti folli?
E io semplicemente dico a quelli "No, non lo siamo" e faccio festa
Ho sentito dire che questa vita è solo una recita senza prove
Mi chiedo se quello di stanotte sarà il mio ultimo atto
E dimmi, qual è il prezzo della fama?
Sono una peccatrice se la mia gonna è per terra?
Sono pazza perchè vado in giro e ballo?
Sono pazza perchè faccio festa?
Sto arrivando, non mi fermate
Sì, voglio essere così, voglio essere così
Ehi fratello, puoi salvare la mia anima dal diavolo?
Dimmi, è strano che mi piaccia il modo in cui lei indossa le sue collant
Ed è maleducato indossare i miei occhiali scuri?
Sono pazza perchè mi piace guardare Mary? (Forse)
Ehi sorella, sono buona abbastanza per il tuo Paradiso?
Dimmi, il tuo Dio mi accetterà nel mio smoking?
Approverà il modo in cui sono fatta?
O dovrei riprogrammare i miei circuiti* e fare festa?
Anche se fa sentire gli altri a disagio
Voglio amare quella che sono
Anche se fa sentire gli altri a disagio
Amerò quella che sono
[Erykah Badu]
Balla fino all'alba
I giudizi altrui non hanno nessuna importanza, quindi fregatene
Non ce la faccio più
Baby, c'è l'atmosfera giusta per mettersi uno smoking
Monae e E. Badu
Folli vestite in bianco e nero
Facciamo andare la batteria in maniera perfetta
Baby, arriva la canzone della libertà
è troppo forte, noi andiamo avanti
Baby, c'è la melodia
Ti mostro in un altro modo
Queste sono canzoni per battaglie di cui non si parla
Vai a casa e canta la tua canzone
Ma devi fare da testimone al problema
Perchè questo c*lo non mente
No , no, il c*lo non mente
[Janelle Monae]
Sì,
mettiamola in un altro modo
Non penso che capiscano quello che sto cercando di dire
Ho chiesto una domanda del genere:
"Siamo una generazione di gente perduta?
Sommaci alle equazioni ma non ci renderanno mai tutti uguali
Chi scrive il film possiede i diritti sulla sceneggiatura e sul sequel
Quindi perchè il furto dei miei diritti non è reso illegale?
Ci tengono a terra sottomesse a lavorare per gli affamati di soldi
Ma quando è il momento di pagare ci voltano le spalle e ci chiamano bisognose
La mia corona è troppo pesante, come quella della regina Nefertiti
Ridammi la mia piramide, sto cercando di liberare Kansas City
Plasmo le menti più geniali come se fossi Bernie Grundman
E continuerò a fare da guida come una giovane Harriet Tubman
Puoi togliermi le ali ma volerò lo stesso
E anche se modifichi le mie foto, il c* *o non mente
Sì, continuerò a cantare e a scrivere canzoni
Sono stufa che Marvin mi chieda "Che sta succedendo?"
Vado a passo di marcia verso le strade perchè voglio e posso
Mettimi in una categoria, rinnego ogni etichetta
E mentre tu spacci droga noi vendiamo speranza
Stiamo andando al potere, devi fartene una ragione e devi affrontare questo fatto
Sarete un gregge elettrico?
Ragazze elettriche, continuerete a dormire,
o passerete parola?