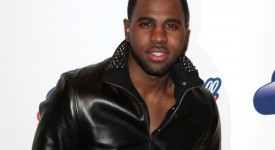 Cheyenne è il nuovo singolo di Jason Derulo tratto dall'album Everything is 4. Si tratta del quarto album dell'artista statunitense, pubblicato nel maggio 2015.
Questo brano fa seguito al grande successo del pezzo Want to want me.
Cheyenne è stata scritta dallo stesso Derulo, in collaborazione con Ian Kirkpatrick, Martin Robbins, Jason Evigan e The Monsters and the Strangerz, e prodotto da questi ultimi insieme a Ian Kirkpatrick.
Testo – Cheyenne
I'm a little unsure how it got so complicated
If I let go I know, I'll regret it
Every heart that I held before
I was sure to break it
I don't know what she did, but
I just can't stop thinking 'bout you every day
No, I can't stop now
Look what we started, baby
You're not what I expected
Cause all I ever wanted was some fun
Look what we started, baby
Used to look for exits
Cause all I ever wanted was some fun
I never meant to fall in love
I never meant to fall in lo-ove
I never meant to fall in love
I never meant to fall in lo-ove
Cheyenne, got the table set for two
Guess you couldn't make it
Thought I kissed your lips again
I was dreaming
I still believe that night we shared was something sacred
I'm trying to clear my head, but
I just can't stop thinking 'bout you every day
No, I can't stop now
Look what we started, baby
You're not what I expected
Cause all I ever wanted was some fun
Look what we started, baby
Used to look for exits
Cause all I ever wanted was some fun
I never meant to fall in love
I never meant to fall in lo-ove
I never meant to fall in love
I never meant to fall in lo-ove
Cheyenne, Cheyenne
Cheyenne, Cheyenne
I just can't stop thinking 'bout you every day
No, I can't stop now
Look what we started, baby
You're not what I expected
Cause all I ever wanted was some fun
Look what we started, baby
Used to look for exits
Cause all I ever wanted was some fun
I never meant to fall in love
I never meant to fall in lo-ove
I never meant to fall in love
I never meant to fall in lo-ove
Cheyenne, Cheyenne
Cheyenne, Cheyenne
Cheyenne
Traduzione
Sono un po' incerto per come si siano complicate le cose
Se lascio perdere lo so, me ne pentirò
Ogni cuore conquistato in precedenza, ero sicuro di spezzarlo
Non so cosa lei abbia fatto, ma
Io non riesco a smettere
Di pensarti ogni giorno
No, ora non riesco a smettere
Guarda quello che abbiamo iniziato, tesoro
Non sei quella che mi aspettavo
Perché tutto ciò che ho sempre voluto era un po' di divertimento
Guarda quello che abbiamo iniziato, tesoro
Ero solito cercare vie d'uscita
Perché tutto ciò che ho sempre voluto era un po' di divertimento
Non ho mai avuto intenzione di innamorarmi
Non ho mai avuto intenzione di innamorarmi
Non ho mai avuto intenzione di innamorarmi
Non ho mai avuto intenzione di innamorarmi
Cheyenne, ho apparecchiato la tavola per due
Immagino che tu non possa farlo
Pensavo che avrei baciato nuovamente le tue labbra
Stavo sognando
Sono ancora convinto che la notte che abbiamo condiviso
Fosse qualcosa di sacro
Cerco di schiarirmi le idee, ma
Io non riesco a smettere
Di pensarti ogni giorno
No, ora non riesco a smettere
Guarda quello che abbiamo iniziato, tesoro
Non sei quella che mi aspettavo
Perché tutto ciò che ho sempre voluto era un po' di divertimento
Guarda quello che abbiamo iniziato, tesoro
Ero solito cercare vie d'uscita
Perché tutto ciò che ho sempre voluto era un po' di divertimento
Non ho mai avuto intenzione di innamorarmi
Non ho mai avuto intenzione di innamorarmi
Non ho mai avuto intenzione di innamorarmi
Non ho mai avuto intenzione di innamorarmi
Cheyenne, Cheyenne
Cheyenne, Cheyenne
Io non riesco a smettere
Di pensarti ogni giorno
No, ora non riesco a smettere
Guarda quello che abbiamo iniziato, tesoro
Non sei quella che mi aspettavo
Perché tutto ciò che ho sempre voluto era un po' di divertimento
Guarda quello che abbiamo iniziato, tesoro
Ero solito cercare vie d'uscita
Perché tutto ciò che ho sempre voluto era un po' di divertimento
Non ho mai avuto intenzione di innamorarmi
Non ho mai avuto intenzione di innamorarmi
Non ho mai avuto intenzione di innamorarmi
Non ho mai avuto intenzione di innamorarmi
Cheyenne, Cheyenne
Cheyenne, Cheyenne
Cheyenne