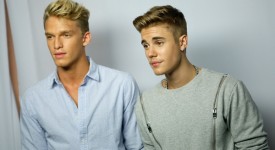 Home to Mama è la nuova canzone di Justin Bieber e Cody Simpson, l'inedito duo formato dalle due giovani star dal Canada e dall'Australia che hanno dato il via a questo progetto.
Home to Mama dovrebbe essere il primo singolo estratto da un album congiunto di soli duetti che potrebbe uscire i primi mesi del 2015. Gli interpreti di Home to Mama, Bieber e Simpson, sono anche gli autori del pezzo.
Di seguito il testo e la traduzione Home to Mama.
Testo – Home to Mama
[CODY SIMPSON]
I don't work hard when it's easy, I put in work when it's hard
Girl I never believed in love, until I had yours
This is more than a season, and I'm not just smart
I'm not afraid to tell ya, that you're the one
The one I wake up thinking 'bout
The one I can run to when I'm feeling down
Life is so good when you're around
Got nobody from the past days, beating you right now
'Cause I take you home to mama, let ya meet my friends
'Cause you don't come with drama, so I want ya 'till the world ends
Love ain't worth it, but I don't feel like I deserve it
You got the pieces, you're my kind of perfect
[JUSTIN BIEBER]
I don't work hard when it's easy, I put in work when it's hard
Girl I never believed in love, until I had yours
This is more than a season, and I'm not just smart
I'm not afraid to tell ya, that you're the one
I'm the one you wake up thinking 'bout
The one I can run to when I'm feeling down
Life is so good when you're around
Got nobody from the past days, beating you right now
'Cause I take you home to mama, I let ya meet my friends
'Cause you don't come with drama, so I want ya 'till the world ends
You're way more than worth it, but I don't feel like I deserve it
You got the pieces, you're my kind of perfect (you're my kind of perfect)
I take you home, home, to mama
Traduzione
[CODY SIMPSON]
Io non mi impegno quando è facile
Ho mi impegno, quando è difficile
Ragazza, loro non hanno mai creduto nell'amore prima che io avessi te
Questo è più di una stagione
E non sono semplicemente spuntato
Non ho paura di dirti che tu sei quella sola
Ma quando mi sveglio pensando a
colei dalla quale posso correre quando mi sento giù
La vita è così bene quando sei qui intorno
Ragazza, nessuno del passato ti batte in questo momento
Perché io ti porto a casa di mamma, ti permetto di conoscere i miei amici
Perché tu non vieni con un dramma
Quindi ti voglio fino alla fine del mondo
Tu ne vali ancora di più la pena
Ma mi sento come se me lo meritassi
Hai i pezzi
Tu sei il mio tipo di perfezione
[JUSTIN BIEBER]
Io non mi impegno quando è facile
Ho mi impegno, quando è difficile
Ragazza, loro non hanno mai creduto nell'amore prima che io avessi te
Questo è più di una stagione
E non sono solo spuntato
Non ho paura di dirti che tu sei quella sola
Io sono colui a cui pensi quando ti svegli
colei dalla quale posso correre quando mi sento giù
La vita è così bene quando sei qui intorno
Ragazza, nessuno del passato ti batte in questo momento
Perché io ti porto a casa di mamma, ti permetto di conoscere i miei amici
Perché tu non vieni con un dramma
Quindi ti voglio fino alla fine del mondo
Tu ne vali ancora di più la pena
Ma mi sento come se me lo meritassi
Hai i pezzi
Tu sei il mio tipo di perfezione