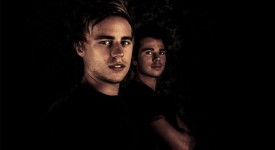 I Klingande sono un duo di dj e producer francesi che hanno scalato le classifiche di mezza Europa con il loro brano Jubel. Il nuovo tormentone house di questo inizio 2014 ha una sonorità raffinata, conferita da un inconfondibile riff di sassofono che rivela una certa influenza jazz del duo.
I giovanissimi Cedric Steinmyller ed Edgar Catry si sono formati nel 2012 e quest'anno hanno conquistato anche la classifica dei singoli in Italia, vincendo un disco di platino. Con queste premesse non tarderanno a diventare i nuovi dominatori della scena musicale house. Di seguito testo e traduzione di Jubel.
 Testo – Jubel
Save me
Save me
Save me
You think I don't laugh oh, do things I can like so, why are we losing time
I don't want to get up oh, bring me what I need so, why are we losing time
It's like I've seen the light but you have never known
Save me.
Traduzione
Salvami
Salvami
Salvami
Pensi che io non rida oh, fai cose che mi piacciono così, perché stiamo perdendo tempo
Non mi voglio svegliare oh, portami quello di cui ho così bisogno, perché stiamo perdendo tempo
E' come se avessi visto la luce, ma tu non lo hai mai saputo
Salvami.