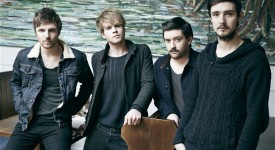 The One è il nuovo singolo estratto dall'ultimo album dei Kodaline e arriva dopo Honest.
Questo nuovo disco, dal titolo Coming up for air è uscito nel febbraio del 2015 e fa seguito al primo album della band di Dublino, In a perfect world.
Di seguito il testo e la traduzione di The One.
Testo – The One
Tell me, tell me that you want me
And I'll be yours completely, for better or for worse
I know we have our disagreements
We're fighting for no reason, I wouldn't change it for the world
Cause I knew the first time that I met you
I was never gonna let you, let you slip away
And I still remember feeling nervous
Try to find the words to get you here today
You make my heart feel like it's summer
When the rain is pouring down
You make my whole world feel so right when it's wrong
That's how I know you are the one
That's why I know you are the one
Life is easy to be scared of
With you I am prepared for what is yet to come
Cause I do, hearts will make it easy
Joining up the pieces together making one
You make my heart feel like it's summer
When the rain is pouring down
You make my whole world feel so right when it's wrong
That's how I know you are the one
That's why I know you are the one
When we are together you make me feel like my mind is free and my dreams are reachable
You know I never ever believed in love
I believed one day that you will come along
You make my heart feel like it's summer
When the rain is pouring down
You make my whole world feel so right when it's wrong
That's how I know you are the one
That's why I know you are the one
That's why I know you are the one
That's how I know you are the one
Traduzione
Dimmi, dimmi che mi vuoi
e io sarò completamente tuo, nel bene e nel male
So che abbiamo le nostre divergenze
Che litighiamo senza motivo, ma non lo cambierei per nulla al mondo
Perché l'ho saputo la prima volta che ti ho conosciuta
che non ti avrei lasciata, lasciata scivolare via da me
E ricordo ancora quanto mi sentissi nervoso
mentre cercavo le parole che ti avrebbero fatta arrivare qui oggi
Tu fai sentire il mio cuore come fosse estate
Quando scende la pioggia
Tu rendi il mio mondo così giusto anche quando è sbagliato
Ed è così che so che tu sei l'unica
Ed è per questo che so che tu sei l'unica
E' facile avere paura della vita
Con te sono preparato a quello che potrà succedere
Perché lo voglio, i cuori lo renderanno più facile
Raccogliere assieme i pezzi e farne uno unico
Tu fai sentire il mio cuore come fosse estate
Quando scende la pioggia
Tu rendi il mio mondo così giusto anche quando è sbagliato
Ed è così che so che tu sei l'unica
Ed è per questo che so che tu sei l'unica
Quando siamo assieme mi fai sentire come se la mia mente fosse libera e i miei sogni fossero raggiungibili
Tu sai che non ho mai e poi mai creduto all'amore
Io credevo che un giorno saresti arrivata tu
Tu fai sentire il mio cuore come fosse estate
Quando scende la pioggia
Tu rendi il mio mondo così giusto anche quando è sbagliato
Ed è così che so che tu sei l'unica
Ed è per questo che so che tu sei l'unica
Ed è per questo che so che tu sei l'unica
Ed è così che so che tu sei l'unica