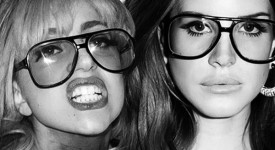 Lana Del Rey ha scoperto un modo per far parlare di sé senza doversi impegnare nella produzione di una nuova canzone: qualche ora fa ha pubblicato So Legit, una sua canzone di qualche anno fa – un brano peraltro molto scarno ed essenziale – nel quale, però, se la prende con uno dei personaggi più in vista del momento.
L'obiettivo del suo attacco verbale è Lady Gaga, che viene apostrofata con termini non certo gentili. Sul web è già scattata la polemica e non si fa altro che parlare di Lana e Gaga e del perché di questo brano. Facile, no?
Testo – So Legit
You were the freak king of the piercing shop
All the girls thought they could sing, but they're really not shit
I don't get it
You're looking like a man, you're talking like a baby
How the fuck is your song in a Coke commercial, crazy?
I don't get it
Your taste once exquisite
What happened to Brooklyn, what happened to New York?
What happened to my scene, what happened to punk rock, rock?
You called me the queen of the downtown scene, babe
How the fuck would you go switch it up and then replace me?
I don't get it, I'm so legit
Tell me, was it 'cause I wasn't platinum in jewels?
That perhaps you thought I was a little bit even uncool
Kid, was that it?
Stefani, you suck, I know you're selling twenty million
Wish they could have seen you when we booed you off in Williamsburg
You're hurt, I know my words don't hurt, yeah
Oh, girl, I see you walking 'round in your pearls
Thinking that you're number one
You're so funny, 'cause honey, you're not
What happened to Brooklyn, the last frontier?
They said you could make it anywhere if you can make it here
But where, no magic in the air
What happened to Brooklyn, what happened to our scene, baby?
Have we all gone Gaga crazy?
Remember when the streets used to be dangerous and we were born bad
And we were born bad?
Punk rock, punk rock
The boys used to punch each other in the face and girls were walking around wasted
And everyone had a good night, come back in sunlight
Punk rock, rock, rock
Traduzione
Tu eri il bizzarro re del piercing shop
Tutte le ragazze pensavano di poter cantare, ma non era assolutamente così, cazzo
Io non lo capisco
Sembri un uomo, parli come una bambina
Che cazzo è la tua canzone nella pubblicità della Cola, pazza?
Io non capisco
Il tuo gusto un tempo squisito
Che è successo a Brooklyn, che è successo a New York?
Che è successo alla mia scena, che è successo al punk rock, rock?
Mi hai chiamato la regina della 'downtown scene', baby
Che cazzo vuoi passarmi sopra e poi sostituirmi?
Io non capisco, sono così autentica
Dimmi, era perchè non ero di platino coi gioielli?
Che forse pensavi fossi un po' sfigata?
Bambina, era così?
Stefani, fai schifo, so che stai vendendo venti milioni di copie
Sogno che possano vedere quando ti abbiamo fischiata a Williamsburg
Sei il peggio, so che le mie parole non fanno male, sì
Oh, ragazza, ti ho vista andare in giro con le tue perle
Pensando di essere la numero uno
Sei così divertente, perchè dolcezza, non lo sei
Che è successo a Brooklyn, l'ultima frontiera?
Dicono che puoi farcela ovunque se puoi farcela qui
Ma dove, nessuna magia nell'aria
Cosa è successo a Brooklyn, che è successo alla nostra scena, baby?
Siamo diventati tutti pazzi di Gaga?
Ricordate quando le strade erano solite essere pericolose e noi eravamo nati cattivi, eravamo nati cattivi?
Punk rock, punk rock
I ragazzi erano soliti fare a pugni in faccia con gli altri e le ragazze andavano in giro rovinate
E tutti avevano una buona notte e tornavano alla luce del sole
Punk rock, rock, rock