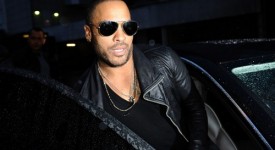 Il nuovo singolo che segna il ritorno di Lenny Kravitz s'intitola The Chamber ed anticipa l'album Strut in uscita il 23 settembre 2014.
Lenny ha definito questo brano come un rock da liceo, ma con quel ritmo e i sintetizzatori anni '80 non ci sembra un rock così sempliciotto.
Ad ogni modo The Chamber è stato scelto come singolo per anticipare il decimo album in studio del cantante.
Di seguito il testo e la traduzione.
Testo – The Chamber
You killed a love that was once so strong
With no regret to what you did wrong
Should I stay and fight?
Can we make this right?
You look through me like an open door
Do I exist to you anymore?
'Cause when I'm talking to you
there's someone else that you're hearing
I gave you all the love I had
And I almost gave you one more chance
Then you put one in the chamber
And shot my heart of glass
This time will be the last
You played your game, used me like a pawn
Check mate you're done and then you were gone
Did I move too fast?I thought we would last
Where there was love lies an empty hole
'Cause when I make love to you
there's someone else that you're feeling
I gave you all the love I had
And I almost gave you one more chance
Then you put one in the chamber
And shot my heart of glass
This time will be the last
So many nights I've been standing at the wall
Blind folded with cigarette waiting for the fall
I gave you all the love I had
And I almost gave you one more chance
Then you put one in the chamber
And shot my heart of glass
This time will be the last
I gave you all the love I had
And I almost gave you one more chance
Then you put one in the chamber
And shot my heart of glass
This time will be the last
I gave you all the love I had
And I almost gave you one more chance
Then you put one in the chamber
And shot my heart of glass
This time will be the last
Traduzione
Hai ucciso un amore che una volta era così forte
Senza pentirti di ciò che hai sbagliato
Dovrei restare e combattere?
Possiamo fare la cosa giusta?
Guardi attraverso me come una porta aperta
Esisto ancora per te?
Perché quando parlo
tu ascolti qualcun altro
Ti ho dato tutto l'amore che avevo
E ti ho quasi dato un'altra possibilità
Poi tu ne hai messo uno in una camera
E hai sparato al mio cuore di vetro
Questa volta sarà l'ultima
Hai fatto il tuo gioco
mi hai usato come una pedina
Hai fatto scacco matto e te ne sei andata
Mi sono mosso troppo velocemente?
Pensavo che saremmo durati
Dove c'era amore un buco vuoto mente
Perché quando io ti do amore
tu senti qualcun altro
Ti ho dato tutto l'amore che avevo
E ti ho quasi dato un'altra possibilità
Poi tu ne hai messo uno in una camera
E hai sparato al mio cuore di vetro
Questa volta sarà l'ultima
Così tante notti sono stato in piedi davanti al muro
Accecato dalle sigarette aspettando la caduta
Ti ho dato tutto l'amore che avevo
E ti ho quasi dato un'altra possibilità
Poi tu ne hai messo uno in una camera
E hai sparato al mio cuore di vetro
Questa volta sarà l'ultima
Ti ho dato tutto l'amore che avevo
E ti ho quasi dato un'altra possibilità
Poi tu ne hai messo uno in una camera
E hai sparato al mio cuore di vetro
Questa volta sarà l'ultima