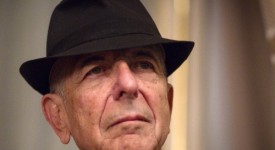 Almost like the blues è il nuovo singolo di Leonard Cohen, estratto dall'album Popular Problems, in uscita il 23 settembre 2014.
Si tratta dell'undiciesimo disco del leggendario cantautore, ormai giunto al suo 80esimo compleanno.
Questo nuovo pezzo, farà dunque da apripista all'album prodotto da Patrick Leonard, registrato e mixato da Jesse E. String con il mixaggio aggiuntivo di Bill Bottrell, e masterizzato presso i Marcussen Mastering.
Di seguito il testo e la traduzione di Almost like the blues.
Testo – Almost like the blues
I saw some people starving
There was murder, there was rape
Their villages were burning
They were trying to escape
I couldn't meet their glances
I was staring at my shoes
It was acid, it was tragic
It was almost like the blues
I have to die a little
Between each murderous thought
And when I'm finished thinking
I have to die a lot
There's torture and there's killing
And there's all my bad reviews
The war, the children missing
Lord, it's almost like the blues
So I let my heart get frozen
To keep away the rot
My father said I'm chosen
My mother said I'm not
I listened to their story
Of the Gypsies and the Jews
It was good, it wasn't boring
It was almost like the blues
There is no G-d in Heaven
And there is no Hell below
So says the great professor
Of all there is to know
But I've had the invitation
That a sinner can't refuse
And it's almost like salvation
It's almost like the blues
Traduzione
Ho visto gente morir di fame
C'erano omicidi, c'erano stupri
I loro villaggi erano in fiamme
Tentavano di fuggir via
Non riuscivo a sostenere i loro sguardi
Fissavo la punta delle mie scarpe
Era sarcastico, era tragico
Era quasi come il blues*
Era quasi come il blues
Devo morire un po'
Tra un pensiero omicida e l'altro
E quando finisco di pensare
Devo morire molto di più
C'è tortura e ci si ammazza
E ci sono tutte le mie critiche negative
La guerra, i bambini scomparsi, signore
E' quasi come il blues
E' quasi come il blues
Così lascio che il cuore mi si ghiacci
Per tenerne fuori il marciume
Mio padre dice che sono eletto
Mia madre dice che non lo sono
Ho ascoltato il loro racconto
Sugli zingari e sugli ebrei
Era bello, non era noioso
Era quasi come il blues
Era quasi come il blues
Non c'è alcun Dio nei cieli
E non ci sono inferi sotto a noi
Tanto dice il grande professore
Di tutto quel che c'è da sapere
Ma ho ricevuto l'invito
Che un peccatore non può rifiutare
Ed è quasi come la salvezza
E' quasi come il blues
E' quasi come il blues