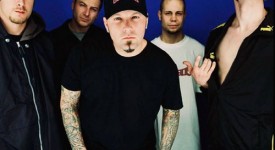 Annuncio in grande stile per il nuovo album dei Limp Bizkit. "Stampede of The Disco Elephants", questo il titolo del nuovo lavoro in studio della band, arriverà sul mercato nei primi mesi del 2014 e in questi giorni è stato pubblicato il primo singolo.
Per il lancio del disco i Limp Bizkit hanno scelto il brano "Thieves", cover dei leggendari Ministry che sembra annunciare una piacevole svolta più metal della band americana.Il brano, infatti, ha un ritmo forsennato e non manca di un bel gioco di voci nella parte conclusiva del brano. Questo album, quindi, potrebbe essere molto più duro rispetto alla produzione precedente, anche se ancora è troppo presto per capire la vera direzione presa dalla band capitanata da Fred Durst.
Testo – Thieves
Any of you people here like Ministry?
Hey!
You got it!
Come on!
Get Up!
Thieves, thieves and liars, murderers, murderers
hypocrites and bastards, hypocrites and bastards
Come on!
Get Up!
Get Up!
Hey thanks for nothing! thanks for nothing!
Nothing of your fucking mind
Realize your shit ain't real!
Yo Boston get the fuck up!
Let me see your fingers motherfuckers!
Pick 'em up!
Traduzione
A qualcuno di voi qui piacciono i Ministry?
hey!
l'avete capito!
forza!
andatevene!
ladri, ladri e bugiardi, assassini, assassini
ipocriti e b******i, ipocriti e b******i
forza!
andatevene!
andatevene!
grazie di nulla! grazie di nulla!
non c'è niente nella vostra testa di c***o
capite che la vostra m***a non è vera
yo Boston, fai una cazzata
lasciami guardare le tue dita figlio di p*****a
becchiamoli