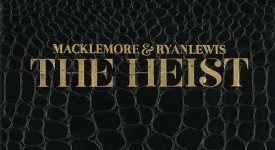 Gli eventi hanno giocato a favore del duo rap di Seattle Macklemore & Ryan Lewis che, dopo la decisione della Corte Costituzionale americana che ha sancito pari diritti alle coppie etero e alle coppie, hanno deciso di riproporre Same Love come terzo singolo promozionale del loro album di debutto The Heist.
Non che  Macklemore & Ryan Lewis abbiano necessità di farsi pubblicità: il loro album è nei primi posti delle classifiche da mesi e Same Love è entrata direttamente nella Top 20 americana.
Testo – Same Love
[Verse 1: Macklemore]
When I was in the 3rd grade
I thought that I was gay
Cause I could draw, my uncle was
And I kept my room straight
I told my mom, tears rushing down my face
She's like, "Ben you've loved girls since before pre-K"
Trippin', yeah, I guess she had a point, didn't she
A bunch of stereotypes all in my head
I remember doing the math like
"Yeah, I'm good at little league"
A pre-conceived idea of what it all meant
For those that like the same sex had the characteristics
The right-wing conservatives think it's a decision
And you can be cured with some treatment and religion
Man-made, rewiring of a pre-disposition
Playing God
Ahh nah, here we go
America the brave
Still fears what we don't know
And God loves all his children it's somehow forgotten
But we paraphrase a book written
3,500 years ago
I don't know
[Hook: Mary Lambert]
And I can't change
Even if I tried
Even if I wanted to
And I can't change
Even if I tried
Even if I wanted to
My love, my love, my love
She keeps me warm [x4]
[Verse 2: Macklemore]
If I was gay
I would think hip-hop hates me
Have you read the YouTube comments lately
"Man that's gay"
Gets dropped on the daily
We've become so numb to what we're sayin'
Our culture founded from oppression
Yet we don't have acceptance for 'em
Call each other faggots
Behind the keys of a message board
A word rooted in hate
Yet our genre still ignores it
Gay is synonymous with the lesser
It's the same hate that's caused wars from religion
Gender to skin color
Complexion of your pigment
The same fight that lead people to walk-outs and sit-ins
Human rights for everybody
There is no difference
Live on! And be yourself!
When I was in church
They taught me something else
If you preach hate at the service
Those words aren't anointed
And that Holy Water
That you soak in
Is then poisoned
When everyone else
Is more comfortable
Remaining voiceless
Rather than fighting for humans
That have had their rights stolen
I might not be the same
But that's not important
No freedom 'til we're equal
Damn right I support it
[Trombone]
I don't know
[Hook]
[Verse 3: Macklemore]
We press play
Don't press pause
Progress, march on!
With a veil over our eyes
We turn our back on the cause
'Till the day
That my uncles can be united by law
Kids are walkin' around the hallway
Plagued by pain in their heart
A world so hateful
Some would rather die
Than be who they are
And a certificate on paper
Isn't gonna solve it all
But it's a damn good place to start
No law's gonna change us
We have to change us
Whatever god you believe in
We come from the same one
Strip away the fear
Underneath it's all the same love
About time that we raised up
[Hook]
[Outro: Mary Lambert]
Love is patient, love is kind
Love is patient (not cryin' on Sundays)
Love is kind (not crying on Sundays) [x5]
Traduzione
quand'ero in terza*
pensavo di essere gay.
perchè potevo trarlo, mio zio lo era
e io tenni la mia stanza etero
lo dissi a mia madre, con le lacrime che scorrevano sul mio viso.
lei era tipo 'Ben ami le ragazze da prima dell'asilo nido'
intervenne, si, immagino avesse un punto, o no?
un paio di stereotipi nella mai testa
ricordo che facevo matematica ed ero tipo
sono bravo nella little league (squadra di baseball)
un'idea preconcepita di cosa significasse
per chi amava lo stesso sesso e aveva le caratteristiche.
i conservatori di estrema destra credono sia una decisione
e che puoi essere curato con trattamenti e religione
riscrivere artificialmente le predisposizioni
giocando a Dio
ah nah, andiamo
America la coraggiosa
ancora temiamo ciò che non sappiamo
e Dio ama tutti i suoi figli ed è stato dimenticato in qualche modo
ma parafrasiamo un libro scritto
3500 anni fa
non lo so
e non posso cambiare
anche se provassi
anche se volessi
e non posso cambiare
anche se provassi
anche se volessi
mio amore, mio amore, mio amore,
lei mi tiene al caldo. x4
Se fossi gay
penserei che l'hip-hop mi odiasse
hai letto i commenti su youtube?
"ragazzo, quello è gay'
buttato sul quotidiano
siamo diventati così indifferenti su ciò che diciamo
la nostra cultura è fondata sull'oppressione
e non li accettiamo
chiamandoci a vicenda finocchi
dietro le chiavi di una bacheca
una parola che affonda le radici nell'odio.
il nostro genere ancora ignora
gay è sinonimo di inferiore
è lo stesso odio che porta alla guerra per la religione
generi sul colore della pelle
carnagione del tuo pigmento
la stessa lotta che conduce le persone a camminare fuori e sedersi dentro (?)
diritti umani per tutti
non ci sono differenze
vivete! e siate voi stessi!
quand'ero in chiesa
mi hanno insegnato altro
se si predica l'odio
le parole non sono benedette
e quell'acqua santa
in cui entri
è avvelenata
quando tutti gli altri
sono più comodi
rimanendo senza voce
invece di combattere per gli umani
a cui hanno sottratto diritti
forse non è lo stesso
ma non è importante
nessuna libertà finchè non saremo
uguali
dannazione lo supporto.
non lo so.
e non posso cambiare
anche se provassi
anche se volessi
e non posso cambiare
anche se provassi
anche se volessi
mio amore, mio amore, mio amore,
lei mi tiene al caldo. x4
abbiamo premuto play
non pausa
progressi, marciamoci
con un velo sugli occhi
accenderemo la causa
fino al giorno
che i miei zii saranno uniti per legge
i bimbi camminano per il corridoio
afflitti dal dolore nei loro cuori
un mondo così pieno d'odio
alcuni preferirebbero morire
che essere così
e un certificato sulla carta
non lo risolverà
ma è un dannato buon modo per iniziare
nessuna legge ci cambierà
cambieremo noi
in qualsiasi Dio tu creda
veniamo da uno solo
cacciamo la paura
sotto è lo stesso amore
che abbiamo cresciuto col tempo.
e non posso cambiare
anche se provassi
anche se volessi
e non posso cambiare
anche se provassi
anche se volessi
mio amore, mio amore, mio amore,
lei mi tiene al caldo. x4
l'amore è paziente, l'amore è gentile
l'amore è paziente (non piangere le domeniche)
l'amore è gentile (non piangere le domeniche) x5