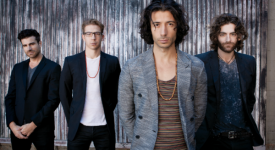 Don't kill the magic è il titolo del nuovo singolo dei Magic! la band canadese arrivata al successo con il pezzo Rude.
Il pezzo è il secondo estratto dall'album Magic! del luglio 2014, un disco caratterizzato da un sound che mescola pop, rock, reggae e soul.
Di seguito il test e la traduzione di Don't kill the magic.
Testo – Don't kill the magic
If you want space (you could have it)
If you want change (you could have it)
Sleep on your bed (you could have it)
Bullet my head (you could have it)

If you want love! (you could have it)
The way that you love (you could have it)
If you want time (you could have it)
I'll tell you no lie (you could have it)

Just don't kill, don't kill the magic (ohhh)
Just don't kill, don't kill the magic (ohhh)
I'm not ready to give up just yet
We could stay until we both forget
So baby, don't kill, (don't kill) don't kill the magic (ohhh)
Oooooh…

If you want space (you could have it)
If you want change (I'll make it drastic)
Sleep on your bed (I'll be your mattress)
Bullet to my head (you could blast it)

Ohh! If you want love! (I'll be tragic)
The way that you love (I can match it)
If you want time (I'll be elastic)
Tell you no lie (You can have it)
No lieee

Just don't kill, don't kill the magic (ohhh)
Just don't kill, don't kill the magic (ohhh)
I'm not ready to give up just yet
We could stay until we both forget
So baby, don't kill, (don't kill) don't kill the magic (ohhh)

Take my arms, take my legs, take my vision
Take my tongue, take my lungs, if you need it
Hold my knees, hold my knees, hold my knees, I beg
Hey ey ey ey ey

You know I said I'm trying fix this baby
Let me be in my heart god's pleasure
I will do, I will do anything instead

Just don't kill, don't kill the magic (ohhh)
Just don't kill, don't kill the magic (ohhh)
I'm not ready to give up just yet
We could stay until we both forget
So baby, don't kill, (don't kill) don't kill the magic (ohhh)
You could have ita
You could have ita
You could have ita
You could have ita
You could have ita
Traduzione
Se vuoi spazio (si potrebbe avere)
Se si desidera cambiare (si potrebbe avere)
Dormire sul tuo letto (si potrebbe avere)
Tirare alla testa (si potrebbe avere)

Se vuoi amore (si potrebbe avere)
Il modo in cui amo (si potrebbe avere)
Se si desidera il tempo (si potrebbe avere)
Non ti dico nessuna bugia (si potrebbe avere)

Basta non uccidere, non uccidere la magia (oh)
Basta non uccidere, non uccidere la magia (oh)
Io non sono pronto a rinunciare ancora
Potevamo restare fino a che non ci sia dimenticare
Così baby, non uccidere (non uccidere)
Non uccidete la magia (oh)
Ooooooh

Se vuoi spazio (si potrebbe avere)
Se si desidera cambiare (Ce la farò drastico)
Dormire sul tuo letto (sarò il vostro materasso)
Tirare alla testa (che potrebbe saltare)

Oh, se volete amore (sarò tragico)
Il modo in cui amo (posso abbinarlo)
Se vuoi tempo (sarò elastico)
Non dirti nessuna menzogna (si può avere)
Nessuna bugia

Basta non uccidere, non uccidere la magia (oh)
Basta non uccidere, non uccidere la magia (oh)
Io non sono pronto a rinunciare ancora
Potevamo restare fino a che non ci sia dimenticare
Così baby, non uccidere (non uccidere)
Non uccidete la magia (oh)

Percorrere le mie braccia, le gambe, prendere la mia visione
Prendere la mia lingua, prendere i miei polmoni, se ne avete bisogno
Tenere le ginocchia, tenere le ginocchia, tenere le ginocchia, ti prego
Ehi-ey-ey-ey-ey

Sai che detto che sto cercando Difficoltà questo bambino
Lascia che io sia in piacere di Dio del mio cuore
Farò, farò qualsiasi cosa invece

Basta non uccidere, non uccidere la magia (oh)
Basta non uccidere, non uccidere la magia (oh)
Io non sono pronto a rinunciare ancora
Potevamo restare fino a che non ci sia dimenticare
Così baby, non uccidere (non uccidere)
Non uccidete la magia (oh)

Si potrebbe averlo
Si potrebbe averlo
Si potrebbe averlo
Si potrebbe averlo
Si potrebbe averlo
Si potrebbe averlo