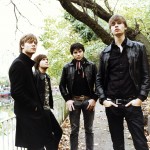 I Mando Diao sono una band svedese venuta alla ribalta nel 2007 con l'album "Never Seen The Light Of Day" che li ha fatti conoscere al grande pubblico.

Ora con "Dance With Somebody" cercano di confermare il loro successo di 2 anni fa, e a giudicare dal numero di volte che passa in radio direi che si stanno riuscendo.

Vi proponiamo il video del brano subito dopo il salto, nell'attesa che questo gruppo riscuota il dovuto successo.

Buona visione!
Video
Testo
Dance With Somebody
Break your happy home
Learn to sing along
To the music, to the music
Clap your hands and shake
On a summer's day
To the music, to the music
[Chorus 2x]
I'm falling in love with your favourite song
I'm gonna sing it all night long
I'm gonna dance with somebody
Dance with somebody
Dance, dance, dance
I'm gonna dance with somebody
When you're all alone
We become your home
We're the music, we're the music
When your love's away
And you feel betrayed
We're the music, sweet music
[Chorus 2x]
I'm falling in love with your favourite song
I'm gonna sing it all night long
I'm gonna dance with somebody
Dance with somebody
Dance, dance, dance
Dance…
[Chorus 4x]
I'm falling in love with your favourite song
I'm gonna sing it all night long
I'm gonna dance with somebody
Dance with somebody
Dance, dance, dance
Traduzione
Dance With Somebody
Spezza la quotidianetà
Imparando a cantare
con la musica, con la musica
Batti le mani
In un giorno d'estate
Con la musica, con la musica
Mi sono innamorato della tua canzone preferita
La canterò per tutta la notte
Ballerò con qualcuno
Ballo con qualcuno
Ballo, ballo, ballo
Ballerò con qualcuno
Nella solitudine
Diventerermo la tua casa
Siamo la musica, siamo la musica
Quando il tuo amore se ne andrà
E ti sentirai tradito
Noi siamo la musica, tenera musica
Mi sono innamorato della tua canzone preferita
La canterò per tutta la notte
Ballerò con qualcuno
Ballo con qualcuno
Ballo, ballo, ballo
Balla…
Mi sono innamorato della tua canzone preferita
La canterò per tutta la notte
Ballerò con qualcuno
Ballo con qualcuno
Ballo, ballo, ballo